The Solar Orbiter spacecraft is heading toward the Sun after a late-night launch from Florida's Space Coast aboard a United Launch Alliance (ULA) Atlas V rocket. The vehicle lifted off from Space Launch Complex 41 at Cape Canaveral Air Force Station at 11:03 p.m. EST on Sunday, Feb. 9.
After a nominal ascent, the spacecraft separated from the rocket's Centaur upper stage. At 12:24 a.m. Monday, mission controllers at the European Space Operations Centre in Darmstadt, Germany, received a signal from the spacecraft indicating that its solar panels had successfully deployed and were drawing power.
"The spacecraft is safe and pointing to the Sun," said European Space Agency's (ESA) Cesar Garcia, program manager for Solar Orbiter.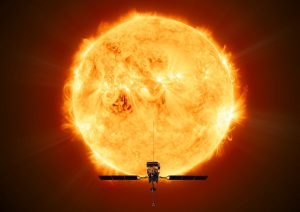 Solar Orbiter is beginning a seven-year mission to study the environment directly surrounding the spacecraft while also observing the Sun, giving scientists a better understanding of how our star can affect the space environment throughout the solar system. The spacecraft also will be the first to provide images of the Sun's poles.
Before the science phase of the mission can begin, Solar Orbiter will undergo a series of checkouts, from initial deployments and checks of the spacecraft's systems to turning on and checking its suite of 10 science instruments. According to Garcia, the testing phase should be finalized around the end of June 2020.
Solar Orbiter is a cooperative mission between the ESA and NASA. ESA's Engineering & Test Center (ESTEC) in The Netherlands managed the development effort. The spacecraft has been developed by Airbus. The European Space Operations Center (ESOC) in Germany will operate Solar Orbiter. The Solar Orbiter mission is managed by ESA; the scientific payload elements of Solar Orbiter are being provided by ESA Member States, NASA and ESA. United Launch Alliance of Centennial, Colorado, provided the Atlas V launch service.
NASA Launch Director Tim Dunn of the agency's Launch Services Program, which had responsibility for launch management, credited the combined efforts of the ULA, ESA and NASA teams to overcome challenges to make the launch successful.
"This is an international collaboration 10-plus years in the making," Dunn said. "When a team is focused on mission success, that's a language that we all speak."