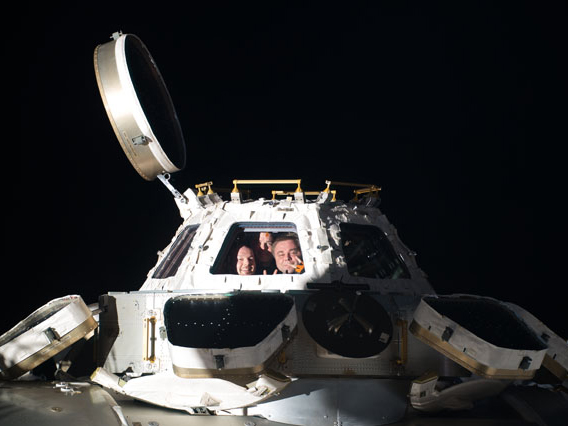 The homebound Expedition 40/41 trio of Soyuz Commander Max Suraev and Flight Engineers Reid Wiseman and Alexander Gerst spent Thursday morning reviewing their Soyuz undocking and descent activities ahead of their Nov. 9 landing in Kazakhstan. Their orbiting Expedition 41/42 crewmates Flight Engineers Barry Wilmore, Alexander Samokutyaev and Elena Serova practiced emergency communication and coordination tasks.
› NASA TV coverage schedule of Expedition 41 landing activities
The crew also had time set aside for a variety of medical and physical science. Gerst conducted Ultrasound eye scans on Wilmore. Reid strapped on sensors and exercised for the Sprint study. Serova collected data for the Matryeshka radiation detection experiment. Suraev and Samokutyaev worked on cargo transfers and Soyuz preparations.
› Read more about Ocular Health
› Read more about Sprint
› Read more about Matryeshka
Expedition 42/43 crew members Terry Virts, Samantha Cristoforetti and Anton Shkaplerov are due to liftoff Nov. 23 aboard a Soyuz TMA-15M spacecraft for a six hour ride to their new home in space. They were in Star City, Russia, for a news conference before going to Moscow for traditional pre-launch ceremonies.
› Read more about Expedition 41
› Read more about Expedition 42