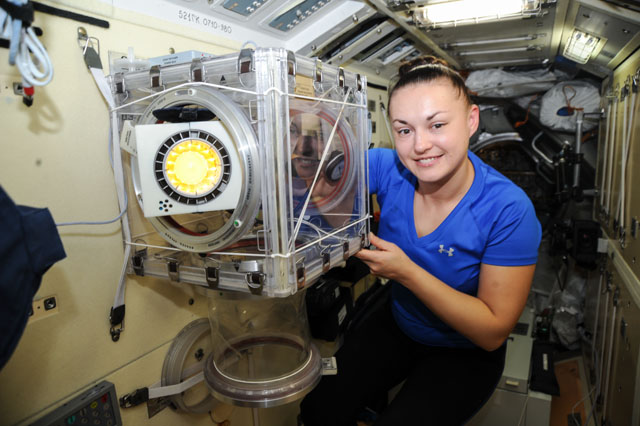 A trio of new Expedition 42 crew members is in its final preparations before Sunday's launch and six-hour ride aboard a Soyuz TMA-15M spacecraft to the International Space Station. The rocket with the Soyuz capsule attached will roll out to the launch pad Friday morning at the Baikonur Cosmodrome in Kazakhstan.
› Read about live NASA TV coverage of the Expedition 42 launch
Aboard the orbital laboratory, the current crew members, Commander Barry Wilmore and Flight Engineers Alexander Samokutyaev and Elena Serova, are working their scheduled task list of ongoing science and maintenance.
Wilmore opened the Fluids Integrated Rack to configure a microscope for the ACE-M-3 experiment. The advanced fluids study observes small particles suspended within a liquid that build into 3D structures. During the afternoon, the commander worked on Europe's Kubik incubator that supports life science with organisms such as seeds, cells and small animals.
› Read more about the Fluids Integrated Rack
› Read more about the ACE-M-3 study
› Read more about Kubik
The orbiting cosmonauts got back together again Thursday working on a Russian chemistry education experiment with Russian school children. The duo also worked throughout the Russian segment checking cables, inspecting panels and conducting preventative maintenance on the ventilation system and oxygen generator.