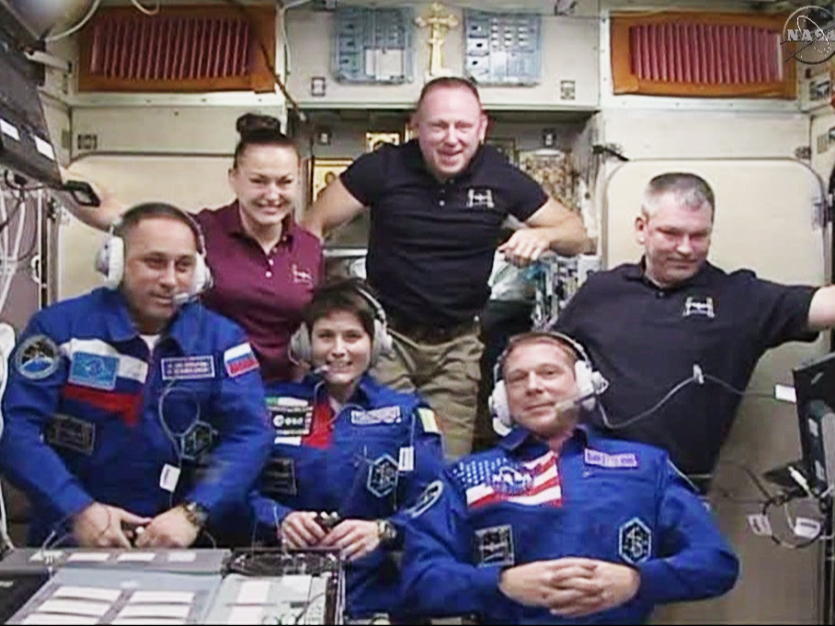 NASA astronaut Terry Virts, Anton Shkaplerov of the Russian Federal Space Agency (Roscosmos) and Samantha Cristoforetti of the European Space Agency joined their Expedition 42 crewmates when the hatches between the Soyuz TMA-15M spacecraft and the International Space Station officially opened at midnight EST. Expedition 42 Commander Barry "Butch" Wilmore of NASA and Alexander Samoukutyaev and Elena Serova of Roscosmos welcomed the new crew members aboard their orbital home.
Expedition 42 will continue to take advantage of the orbital lab's unique microgravity environment and expand the scope of research. The crew will perform experiments that cover human research, biological and physical sciences, technology development and Earth observations as well as engage in educational activities. They are scheduled to greet a host of cargo vehicles during their mission, including a number of U.S. commercial resupply flights, two Russian Progress resupply missions and the departure of the final European ATV cargo spacecraft. The crew will conduct up to three U.S. spacewalks.
Wilmore, Samoukutyaev and Serova will return home in March 2015. At that time Virts will become commander for Expedition 43. Virts, Shkaplerov and Cristoforetti will return to Earth in May 2015.
To learn more about Expedition 42, visit: http://go.nasa.gov/1yMQKPe.
To follow Twitter updates from NASA's Expedition 42 astronauts, visit:
http://www.twitter.com/AstroTerry
http://www.twitter.com/AntonAstrey
http://www.twitter.com/AstroSamantha
To join the online conversation about the International Space Station and Expedition 42 on Twitter, follow the hashtags #ISS, #Exp42 and #Soyuz. To learn more about all the ways to connect and collaborate with NASA, visit: https://www.nasa.gov/connect.