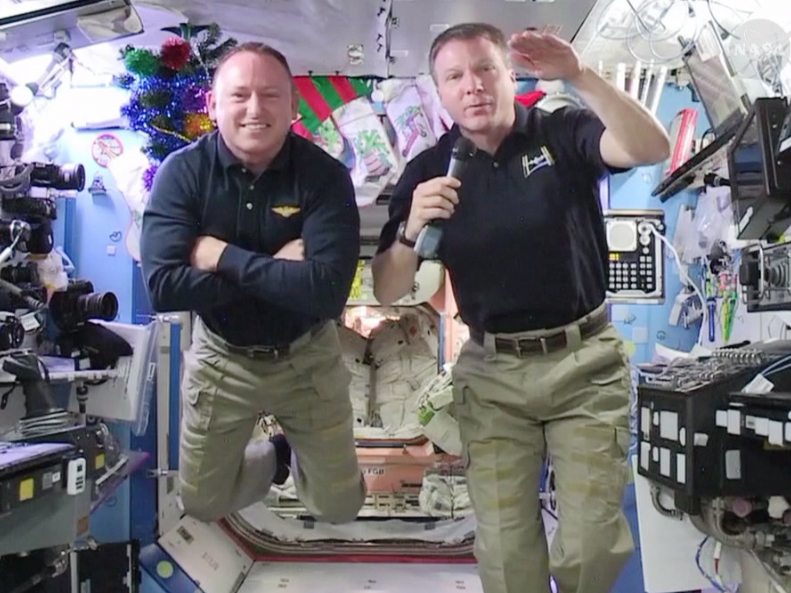 NASA astronaut and Expedition 42 Flight Engineer Terry Virts worked on medical science Wednesday morning and later set up commercial research gear for an experiment to be delivered on the next SpaceX mission. Meanwhile, station Commander Barry Wilmore and Italian astronaut Samantha Cristoforetti continued this week's maintenance work on a U.S. spacesuit.
During the morning Wilmore and Cristoforetti joined Virts for eye scans using the station's Ultrasound equipment. At the end of the day, Samantha put on an armband sensor that monitors a body's core temperature for a study that observes how a crew member adapts to a 24 hour cycle in space.
Read more about the Ocular Health study
Read more about the Circadian Rhythms study
Cosmonauts Alexander Samokutyaev and Elena Serova were back at work installing gear and connecting cables for a micrometeoroid detection experiment. Veteran station resident Anton Shkaplerov started his day installing software updates on Russian laptop computers then spent the afternoon auditing the laptops.
Meantime, SpaceX is counting down to the launch of its Dragon commercial cargo craft Dec. 16 at 1:31 p.m. EST. NASA TV will provide live coverage of science, technology and pre-launch briefings including the launch itself.