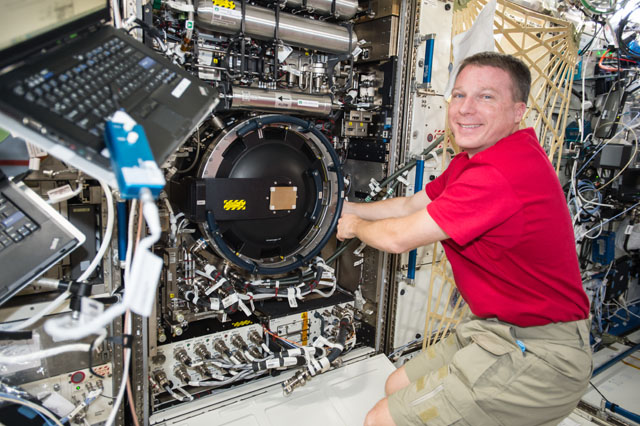 Commander Barry Wilmore completed spacesuit maintenance work Thursday and began testing the spacesuit to return it to service. Italian astronaut Samantha Cristoforetti cleaned up and stowed the spacesuit hardware and tools. The next U.S. spacewalk is targeted for early 2015.
After the spacesuit work Wilmore joined Flight Engineers Samantha Cristoforetti and Terry Virts to review activities planned for next week's SpaceX Dragon launch scheduled for Dec. 16. Virts and Cristoforetti earlier started their day on medical science and a periodical fitness check. Virts went on to open the Combustion Integrated Rack for fuel gear replacement work.
› Read more about the Combustion Integrated Rack
Veteran station residents and cosmonauts Anton Shkaplerov and Alexander Samokutyaev were back at work inside the Zarya cargo module installing overlay sheets on interior panels and disinfecting them. Russia's first female cosmonaut Elena Serova worked science studying radiation in the station and the Sun's influence on Earth's magnetic field.
Samokutyaev also joined Serova for observation of the cardiovascular system while working out on an exercise bike. Shkaplerov worked throughout the day studying chemical reactions in Earth's upper atmosphere.