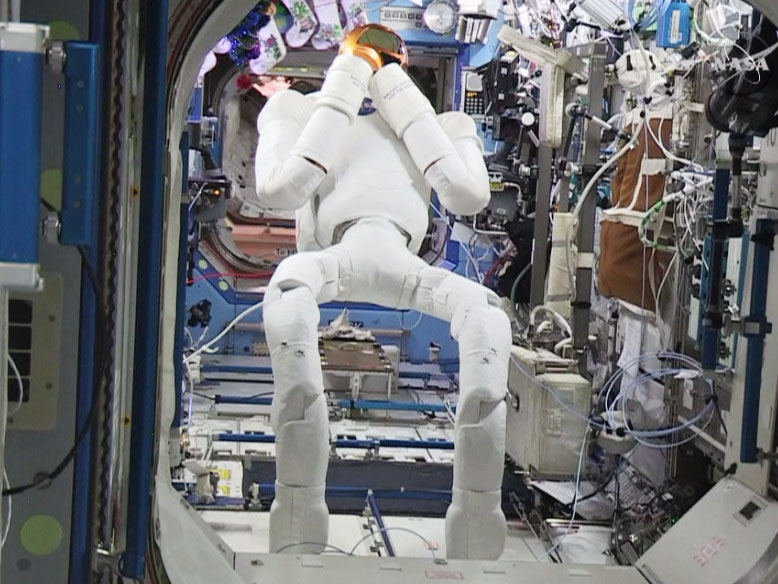 The International Space Station crew has been working on a variety of robotics activities this week. On Wednesday, they tested a humanoid robot and explored how bowling ball-sized satellites, known as SPHERES, can navigate around objects. Crew members trained earlier in the week for the planned Sunday capture of the Dragon spacecraft using the 57.7 foot Canadarm2.
› Read more about the SpaceX CRS-5 mission
NASA astronaut Terry Virts unpacked Robonaut 2 so that payload controllers from the Marshall Space Flight Center in Alabama could power up its new legs for the first time. Robonaut's legs, which arrived on a previous SpaceX mission, were installed in August. Italian astronaut Samantha Cristoforetti downloaded SPHERES data demonstrating how the small free-floating satellites build 3D maps of objects and interact and navigate using those 3D models.
› Read more about the SPHERES-VERTIGO study
Cristoforetti also joined Commander Barry Wilmore removing a small satellite deployer, nicknamed CYCLOPS, from Japan's Kibo lab module for troubleshooting. Afterward, Wilmore conducted a vision test and set up a multipurpose experiment platform in Kibo.
Veteran cosmonauts Alexander Samokutyaev and Anton Shkaplerov installed more overlay sheets inside the Zarya cargo module. New cosmonaut Elena Serova conducted a photographic inspection of the interior panels of the Zvezda service module. The trio also worked a wide variety of science including studies of bioelectric cardiac activity and the effects that earthquakes and human activities have on Earth's ionosphere.