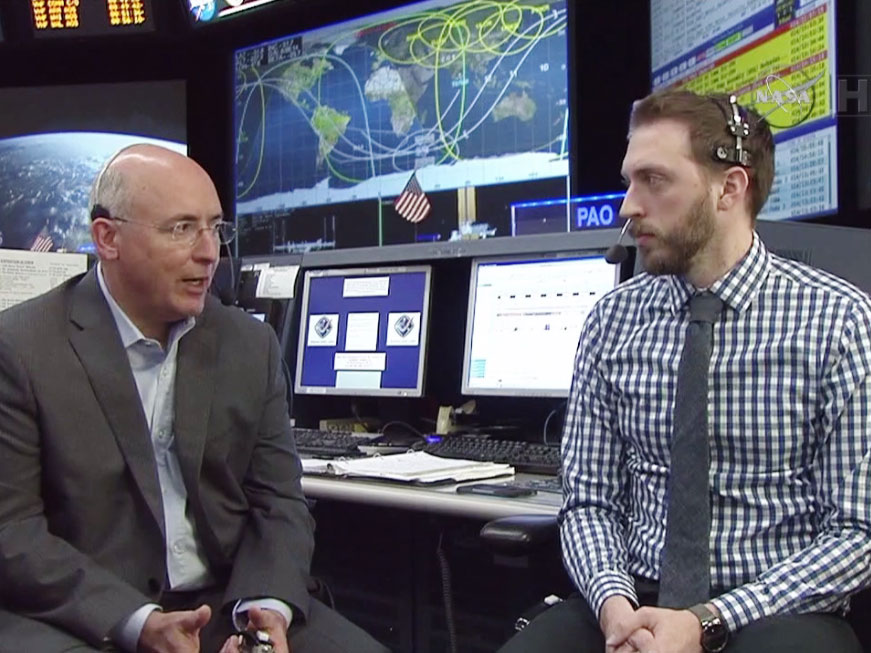 The International Space Station mission management team, including all of the station Partners, met this afternoon and directed the station's residents to return to the U.S. segment of the complex before the end of the day, systems permitting. The decision was made hours after the crew members were isolated in the Russian segment following an alarm that could have been indicative of an ammonia leak. The crew is in good condition, was never in any danger and no ammonia leak has been detected on the orbital laboratory. They were informed of the forward plan during their afternoon daily planning conference with flight controllers in Houston, Moscow and the other Partner flight control centers.
Around 3 a.m. Central time today, Station commander Barry Wilmore and Flight Engineer Terry Virts of NASA and Flight Engineer Samantha Cristoforetti of the European Space Agency were directed to don protective masks and move into the Russian segment, closing hatches behind them to the U.S. segment due to the annunciation of an alarm that is part of the environmental systems software on the station designed to monitor the cabin's atmosphere.  At the same time, the station's protection software shut down one of two redundant cooling loops (Thermal Control System Loop B).
Data received from a variety of system sources on board have been studied by flight controllers throughout the day and indicate no leakage of ammonia on the station. The alarms this morning that initiated the movement of the crew out of the U.S. segment are suspected to have been caused by a transient error message in one of the station's computer relay systems, called a multiplexer-demultiplexer. A subsequent action to turn that relay box off and back on cleared the error message and the relay box is reported by flight controllers to be in good operating condition.
As a result, the crew will re-enter the station's U.S. segment today wearing the same protective masks they donned earlier today and will conduct measurements of the atmosphere to make sure there are no traces of ammonia present. Assuming there is no indication of ammonia, the crew will doff their masks and will remain in the U.S. segment for nominal operations.
Meanwhile, flight controllers are continuing to analyze data in an effort to determine what triggered the alarm that set today's actions in motion. Work to reactivate cooling loop B on the station will continue throughout the night and into the day Thursday. The crew members are expected to resume a normal complement of research activities on Thursday as well.