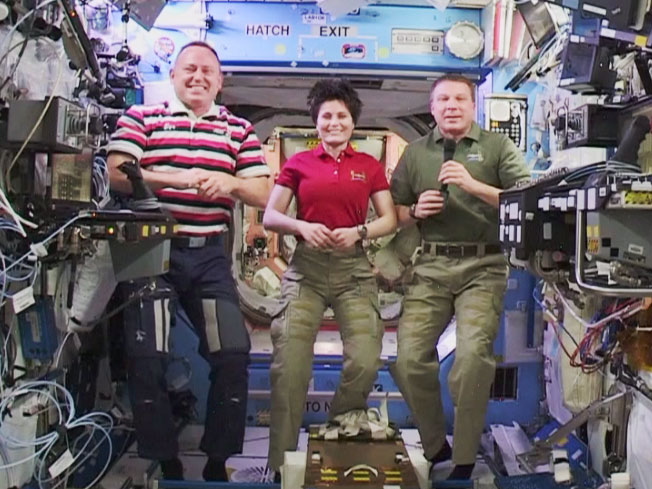 There are three docked space freighters at the International Space Station and two are scheduled to depart this month. The SpaceX Dragon commercial cargo craft is being loaded with research and gear for return and analysis back on Earth. The Canadarm2 will detach Dragon from the Harmony module then release it for a splashdown Feb. 10 off the Pacific Coast of Baja California.
Europe's Automated Transfer Vehicle-5 (ATV-5) is being packed with trash and discarded gear and being readied for its departure Feb. 14. It will deorbit over the Pacific Ocean for a fiery destruction. This is Europe's last ATV resupply mission to the space station.
A new ISS Progress 58 space freighter is scheduled for a six-hour flight to the station when it launches from the Baikonur Cosmodrome in Kazakhstan Feb. 17. It will occupy the same Zvezda docking port where the ATV-5 is located now.
Meanwhile, Commander Barry Wilmore and Italian astronaut Samantha Cristoforetti worked high-flying plumbing and maintenance on the International Space Station. Wilmore also prepared heater cables that will be installed on an upcoming spacewalk. Flight Engineer Terry Virts processed samples for a materials science experiment and removed hardware from the Commercial Generic Bioprocessing Apparatus which is used to study cells, microbes and plants.
› Read more about the Coarsening in Solid Liquid Mixtures-2)
› Read more about the Commercial Generic Bioprocessing Apparatus