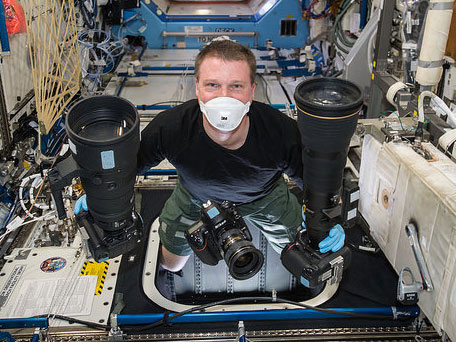 Mission Controllers in Houston will send commands to the 57.7 foot long Canadarm2 to grapple the SpaceX Dragon space freighter Tuesday. The robotic arm will latch on to a grapple fixture ahead of next week's release of Dragon from the Harmony module. It will splash down off the Pacific coast of Baja California loaded with research and gear for analysis on Earth.
› Read more about the SpaceX CRS-5 mission
Back inside the International Space Station, the crew is working on more visiting vehicle activities, spacewalk preparations as well as ongoing microgravity science.
Commander Barry Wilmore is loading Europe's Automated Transfer Vehicle-5 (ATV-5) with trash readying the vehicle for its departure Feb. 14. Cosmonauts Alexander Samokutyaev and Anton Shkaplerov practiced using the telerobotically operated rendezvous system, or TORU, ahead of the Feb. 17 arrival of the ISS Progress 58 resupply ship. The TORU would be used in the unlikely event the Kurs automated rendezvous system failed during the Progress' approach.
Wilmore also harvested plants for the APEX-03 botany experiment. That study observes the effects of microgravity on the development of roots and cells on plant seedlings. Italian astronaut Samantha Cristoforetti looked at roundworms for the Epigenetics study that researches if new cell generations adapt to microgravity.
› Read more about the APEX-03 botany experiment
› Read about the Epigenetics study