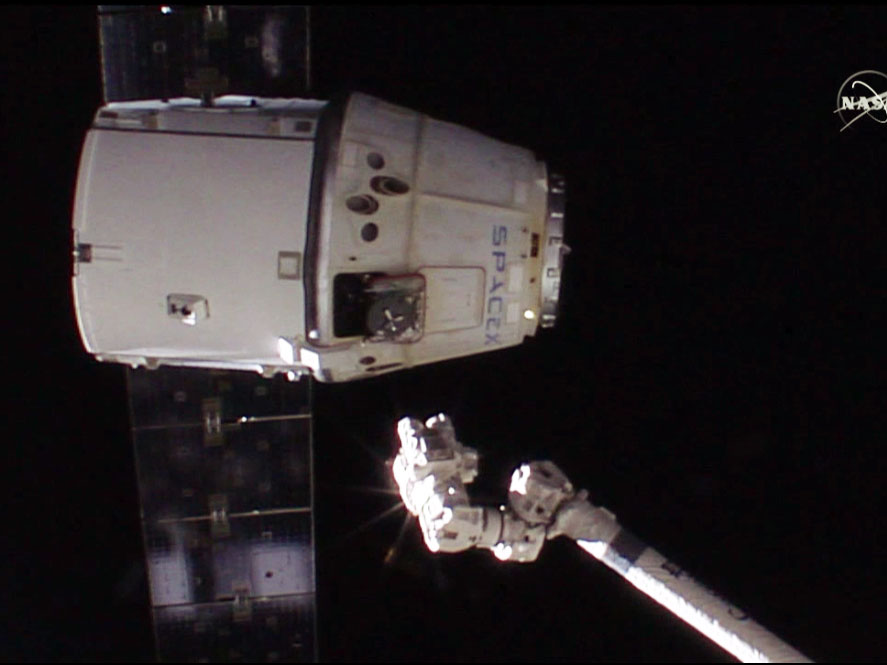 The SpaceX Dragon cargo spacecraft was released from the International Space Station's robotic arm at 2:10 p.m. EST. The capsule was maneuvered outside the vicinity of the space station in preparation for its return trip to Earth. The capsule is currently scheduled to splashdown in the Pacific Ocean at about 7:44 p.m., 259 miles southwest of Long Beach, California.
Robotics controllers on the ground removed the SpaceX Dragon from the Harmony node Tuesday morning after they finished packing it full of critical research and gear Monday. Italian astronaut Samantha Cristoforetti, backed up by Flight Engineer Terry Virts, commanded the Canadarm2 to release Dragon.
Cristoforetti also worked on orbital plumbing during the day before heading to the cupola for the release. Earlier, Commander Butch Wilmore and Virts demated the jumper cables and depressurized the vestibule which is the interface between Harmony and Dragon. The NASA astronauts also had time set aside to organize tools ahead of three spacewalks to install cables the first of which is set to begin Feb. 20.
The cosmonauts continued their work conducting Russian science and stowing trash and gear inside the ISS Progress 57 (57P) resupply ship.