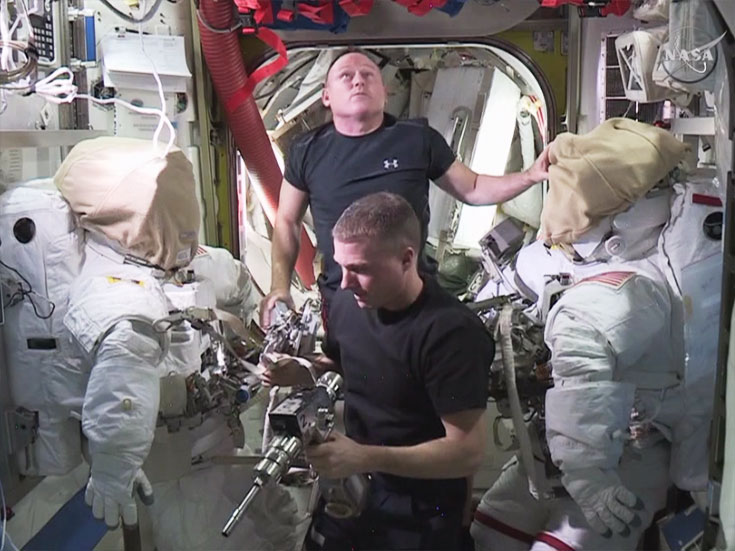 As the second resupply ship this week prepares to leave the International Space Station another spacecraft is being readied for its launch. Meanwhile, the six-member Expedition 42 crew was working a variety of maintenance and science tasks Thursday.
› Read more about spacecraft departure and arrival activities
Europe's Automated Transfer Vehicle-5 (ATV-5) is being packed with its final load of trash and discarded gear. The ATV-5 will undock from the Zvezda service module's aft-end port Saturday at 8:40 a.m. EST. It will descend into the Earth's atmosphere over the Pacific Ocean for a fiery demise Sunday afternoon.
A new resupply ship, the ISS Progress 58, is being loaded with final gear to be delivered Feb. 17 to Expedition 42 when it launches from the Baikonur Cosmodrome in Kazakhstan. The Roscosmos space freighter will orbit the Earth just four times, or about six hours, after launch before docking to the port vacated by ATV-5.
The station crew also focused on spacewalk preparations and microgravity science, the primary mission of the orbital laboratory, to benefit life on Earth as well as future space crews. Ground doctors assisted Commander Barry Wilmore and Italian astronaut Samantha Cristoforetti during eye exams. Cosmonauts Alexander Samokutyaev and Elena Serova studied bioelectric cardiac activity as well as methods to locate punctures caused by micro-meteoroids on the station's surface.