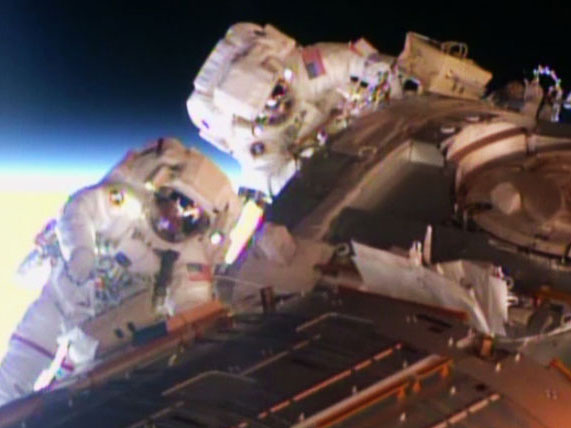 NASA astronauts Barry Wilmore and Terry Virts ended their spacewalk at 2:26 p.m. EST with the repressurization of the Quest airlock. Wilmore and Virts completed all the scheduled tasks for today and one get ahead task. They rigged a series of power and data cables at the forward end of the Harmony module and Pressurized Mating Adapter-2 and routed 340 of 360 feet of cable. The cable routing work is part of a reconfiguration of station systems and modules to accommodate the delivery of new docking adapters that commercial crew vehicles will use later this decade to deliver astronauts to the orbital laboratory.
The 6-hour, 41-minute spacewalk was the first for Virts. Wilmore now has spent 13 hours and 15 minutes in the void of space during two spacewalks. The spacewalk began this morning at 7:45 a.m. Astronauts have now spent a total of 1,159 hours and 8 minutes conducting space station assembly and maintenance during 185 spacewalks.
The duo will venture outside the space station again on Wednesday, Feb. 25, to deploy two more cables and lubricate the end of the space station's robotic arm. NASA TV coverage will begin at 6 a.m. Wednesday ahead of a planned 7:10 a.m. start time for the spacewalk.