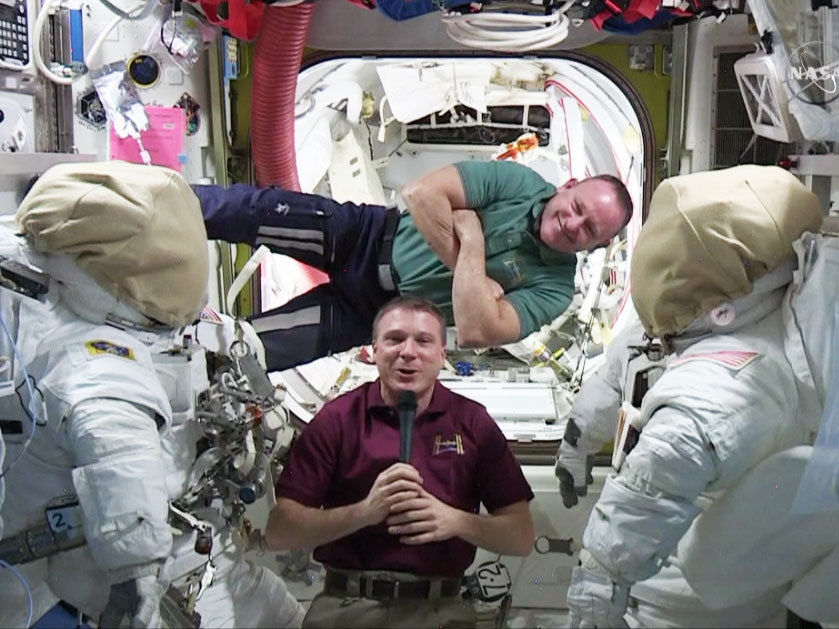 A docked ISS Progress 58 space freighter fired its engines Thursday morning to boost the International Space Station's orbit by 1.3 statute miles. A second orbital reboost is scheduled March 3 before Expedition 42 undocks March 12 and lands in Kazakhstan. Expedition 43 will launch March 27 with the One Year Crew from the Baikonur Cosmodrome in Kazakhstan.
› Read about the Feb. 25 spacewalk
› Read about the Feb. 21 spacewalk
NASA astronauts Barry Wilmore and Terry Virts are checking their tools and spacesuits after Wednesday's fully successful spacewalk to route cables, grease the leading end effector of the Canadarm2 and prepare the station for the relocation of the Permanent Multipurpose Module and the new Bigelow Expandable Activity Module. They have one more spacewalk to go on Sunday to finish setting up the station for future U.S. commercial space vehicles.
While Wilmore and Virts get ready for Sunday's third and final spacewalk, mission managers will meet Friday morning to review preparations before deciding on a "go-no go" decision.