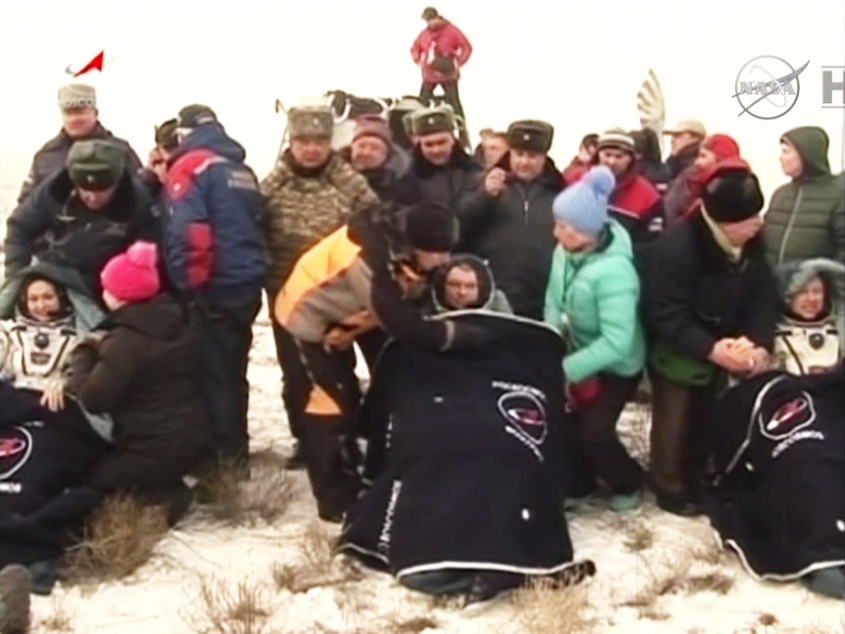 Expedition 42 Commander Barry Wilmore of NASA, and Alexander Samokutyaev and Elena Serova of the Russian Federal Space Agency landed their Soyuz TMA-14M spacecraft in Kazakhstan at approximately 10:07 p.m. EDT. Russian recovery teams are helping the crew exit the Soyuz vehicle and adjust to gravity after their stay in space.
The trio arrived at the International Space Station on Nov. 23, 2014, and spent more than five months conducting research and technology demonstrations. Wilmore, Samokutyaev and Serova spent 167 days aboard the space station and clocked almost 71 million miles during their time in space.
Wilmore now has logged 178 days in space during two missions, the first of which was on space shuttle mission STS-129 in 2009. Samokutyaev now has spent 331 days in space on two flights, the first of which was on Expedition 27/28 in 2011. This was Serova's first flight into space.
The station now is occupied by Expedition 43 Commander Terry Virts of NASA, Flight Engineer Samantha Cristoforetti of ESA and Anton Shkaplerov of the Russian Federal Space Agency. They will remain aboard the station to continue research and maintenance until the remainder of the Expedition 43 crew arrives later this month.
NASA astronaut Scott Kelly and Russian cosmonauts Mikhail Kornienko and Gennady Padalka, are scheduled to launch from Baikonur, Kazakhstan, March 27 U.S. time (March 28 Kazakh time). Kelly and Kornienko will spend a year aboard the complex collecting valuable biomedical data that will inform future deep space, long-duration missions.
Some of the return cargo flown aboard this Soyuz was used as part of research investigations aboard the International Space Station. Researchers on the ground are waiting on the return of 17 area dosimeters from one such study, the Area Passive Dosimeter for Life-Science Experiments in Space (Area PADLES). These area dosimeters continuously monitored radiation throughout Kibo, the Japanese Experiment Module. The dosimeters gathered information about space radiation to help manage exposure and provide protection to crew members.
Researchers may use data from Area PADLES to design new radiation monitoring equipment for astronauts and people who work in medical or industrial areas with potential radiation exposure. This knowledge also may help develop better protective measures for the life sciences studies that occur within Kibo. Futhermore, the results from this research could improve design for future spacecraft structures that will shield internal occupants from radiation.
› Read more about Area PADLES.
Russian scientists are expecting the return of two incubation containers with planarian worms aboard this Soyuz spacecraft. The Effect of Weightlessness on Processes of Regeneration by Electrophysiological and Morphological Factors (Regeneratsiya-Planaria (Regeneration-Girardia)) investigation is an assessment of the impact of microgravity on the structural and functional regeneration of amputated organs and tissues of planarian worms.
Planarian worms, known for their regenerative processes, can be cut into pieces and each piece can grow back into a complete organism. Study of these organisms in microgravity may have implications for human health and disease, including development of methods for repairing damaged tissue from injury or physical impairment.
› Read more about Regeneration-Girardia
› Read more about model organisms in space station research.