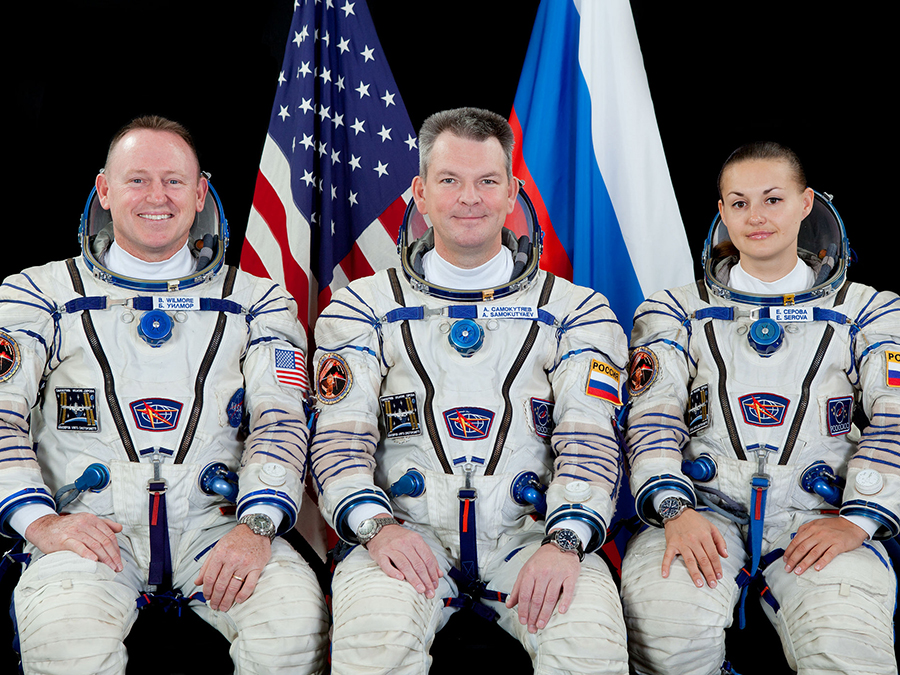 Today is homecoming day for International Space Station Commander Barry "Butch" Wilmore of NASA and Flight Engineers Alexander Samokutyaev and Elena Serova of the Russian Federal Space Agency (Roscosmos) as they prepare for landing in their Soyuz TMA-14M spacecraft at 10:07 p.m. EDT this evening, southeast of Dzhezkazgan, Kazakhstan.
At this time, there are no concerns or issues being worked.
Wilmore handed over command of the orbiting complex to fellow NASA astronaut Terry Virts in a ceremony on Tuesday, March 10. When the Soyuz undocks, Expedition 43 formally will begin.
NASA Television coverage times for Soyuz activities are listed below. These activities also will stream online at https://www.nasa.gov/ntv.
Here is a timeline of the Expedition 42 undocking and landing.
Wednesday, March 11
EDT                            EVENT
3:00 p.m.                   NASA TV: Expedition 42 farewell & hatch closure coverage
3:25 p.m.                    Soyuz TMA-14M/space station hatch closure
6:15 p.m.                   NASA TV: Expedition 42 Soyuz TMA-14M undocking coverage
6:42 p.m.                    Soyuz undock command sent
6:44 p.m.                    Soyuz TMA-14M undocks from space station
6:47 p.m.                    Soyuz manual separation burn
9:00 p.m.                   NASA TV: Expedition 42 Soyuz TMA-14M deorbit burn and landing coverage
9:16 p.m.                    Soyuz TMA-14M deorbit burn (4 minutes, 41 seconds duration)
9:20 p.m.                    Soyuz deorbit burn complete
9:42 p.m.                    Soyuz module separation (altitude 87 miles)
9:45 p.m.                    Soyuz atmospheric entry (altitude 62 miles)
9:53 p.m.                    Command to open parachute (6.6 miles)
10:07 p.m.                 Expedition 42 Soyuz TMA-14M landing southeast of Dzhezkazgan, Kazakhstan