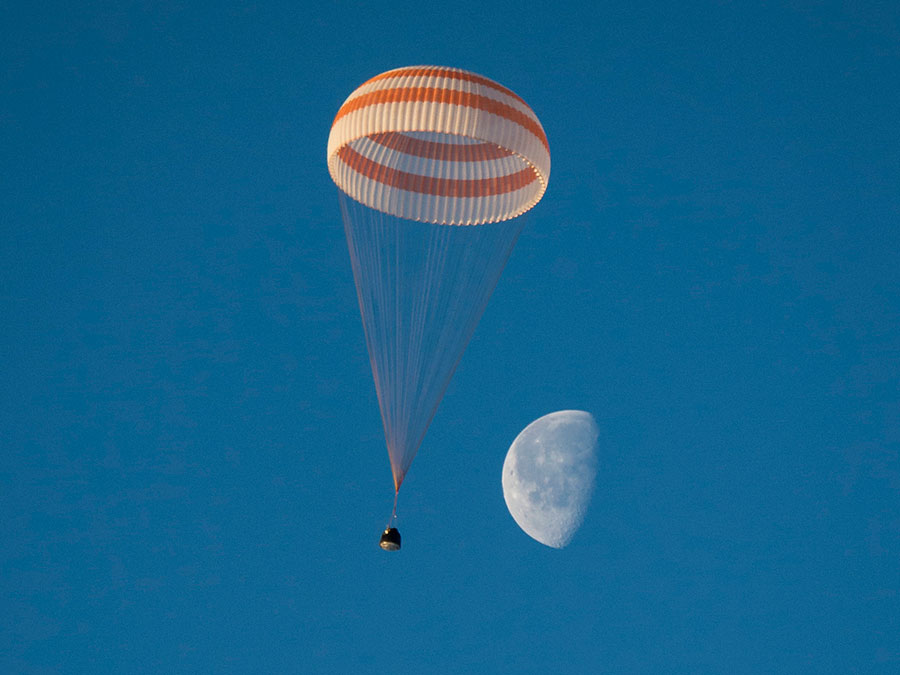 Expedition 43 Commander Terry Virts and Flight Engineers Samantha Cristoforetti and Anton Shkaplerov are resting today after sending their Expedition 42 crewmates back to Earth last night. Expedition 42 Commander Barry Wilmore handed the controls of the International Space Station to Virts in a Change of Command Ceremony Tuesday morning.
Wilmore, Soyuz Commander Alexander Samokutyaev and Flight Engineer Elena Serova completed their mission after landing in Kazakhstan about 10:07 p.m. EDT Wednesday. They entered their Soyuz TMA-14M spacecraft then undocked from the Poisk module at 6:44 p.m. when Expedition 43 officially began.
Some of the return cargo flown aboard this Soyuz was used as part of research investigations aboard the International Space Station. Researchers on the ground are waiting on the return of 17 area dosimeters from one such study, the Area Passive Dosimeter for Life-Science Experiments in Space (Area PADLES). These area dosimeters continuously monitored radiation throughout Kibo, the Japanese Experiment Module. The dosimeters gathered information about space radiation to help manage exposure and provide protection to crew members.
Researchers may use data from Area PADLES to design new radiation monitoring equipment for astronauts and people who work in medical or industrial areas with potential radiation exposure. This knowledge also may help develop better protective measures for the life sciences studies that occur within Kibo. Futhermore, the results from this research could improve design for future spacecraft structures that will shield internal occupants from radiation.
› Read more about Area PADLES.
Russian scientists are expecting the return of two incubation containers with planarian worms aboard this Soyuz spacecraft. The Effect of Weightlessness on Processes of Regeneration by Electrophysiological and Morphological Factors (Regeneratsiya-Planaria (Regeneration-Girardia)) investigation is an assessment of the impact of microgravity on the structural and functional regeneration of amputated organs and tissues of planarian worms.
Planarian worms, known for their regenerative processes, can be cut into pieces and each piece can grow back into a complete organism. Study of these organisms in microgravity may have implications for human health and disease, including development of methods for repairing damaged tissue from injury or physical impairment.
› Read more about Regeneration-Girardia
› Read more about model organisms in space station research.