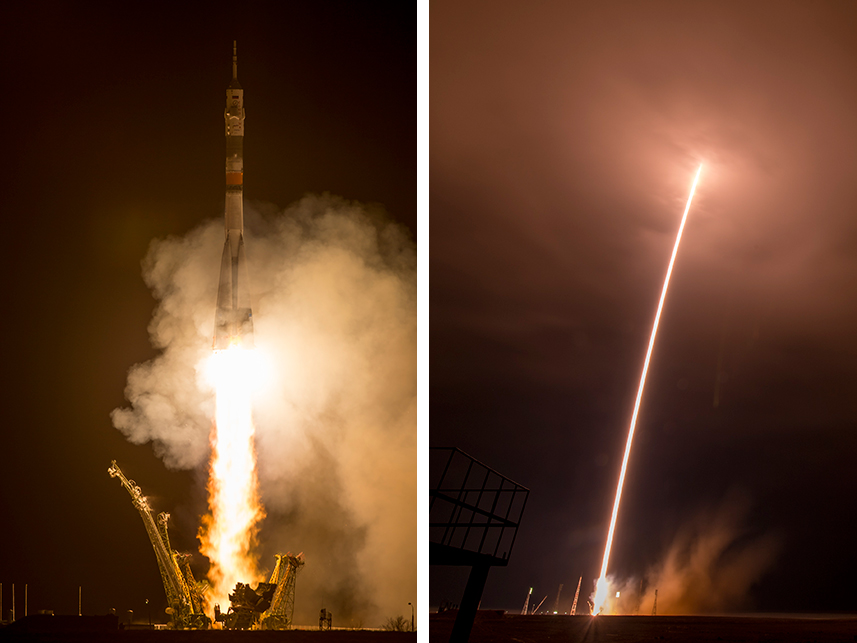 The Soyuz TMA-16M launched from the Baikonur Cosmodrome in Kazakhstan to the International Space Station at 3:42 p.m. EDT (1:42 a.m. on March 28 Baikonur time). Scott Kelly of NASA, Mikhail Kornienko and Gennady Padalka of the Russian Federal Space Agency (Roscosmos) now are safely in orbit.
NASA TV coverage continues at https://www.nasa.gov/nasatv.
Kelly, Kornienko and Padalka will dock with the station's Poisk module at 9:36 p.m. NASA Television coverage of the docking will begin at 8:45 p.m. Welcoming them aboard will be the current station residents, Expedition 43 Commander Terry Virts of NASA, Anton Shkaplerov of Roscosmos and Samantha Cristoforetti of ESA (European Space Agency). NASA TV coverage of the hatch opening and welcome ceremony begins at 10:45 p.m.
Virts, Shkaplerov and Cristoforetti arrived at the space station in November aboard their Soyuz TMA-15M spacecraft and will remain aboard until May 14.
Seven categories of human health research will occur with the inception of the One-Year Mission of Kelly and Kornienko. Researchers expect these investigations to yield beneficial knowledge on the medical, psychological and biomedical challenges faced by astronauts during long-duration spaceflight.
Scientists believe fluid shifts into an astronaut's head during spaceflight lead to increased pressure in the brain. This also may cause pressure to the back of the eye, causing the eye to change shape. The Fluid Shifts Before, During and After Prolonged Space Flight and Their Association with Intracranial Pressure and Visual Impairment (Fluid Shifts) investigation measures how much fluid moves from the lower body to the upper body, in or out of cells and blood vessels, and determines the impact these shifts have on fluid pressure in the head, changes in vision and eye structures. The study results will help improve researchers' understanding of how blood pressure in the brain affects eye shape and vision. This knowledge may benefit people on Earth with disease states that include swelling and pressure to the brain or who are confined to bed rest. Results also could help scientists develop preventive measures against changes in astronauts' vision and eye damage.
Another One-Year Mission investigation is the Biochemical Profile (Biochem Profile), which will allow for quicker response to researchers' requests for spaceflight data about the effects of microgravity on human physiology. Through the collection, processing and storage of crew member blood and urine samples, the Biochem Profile study will establish a database of biomedical data to be shared among multi-disciplinary researchers and medical operations that assess the effects of spaceflight on humans. This data can be used to provide information about medical risks during long-duration space travel and to evaluate potential countermeasures established to protect crew health. With greater understanding of how various physiological systems respond to changing gravity conditions, physicians may be able to design new treatments for people on Earth with limited mobility.
Read more about Biochem Profile.
Read more about all of the One-Year Mission human health studies.