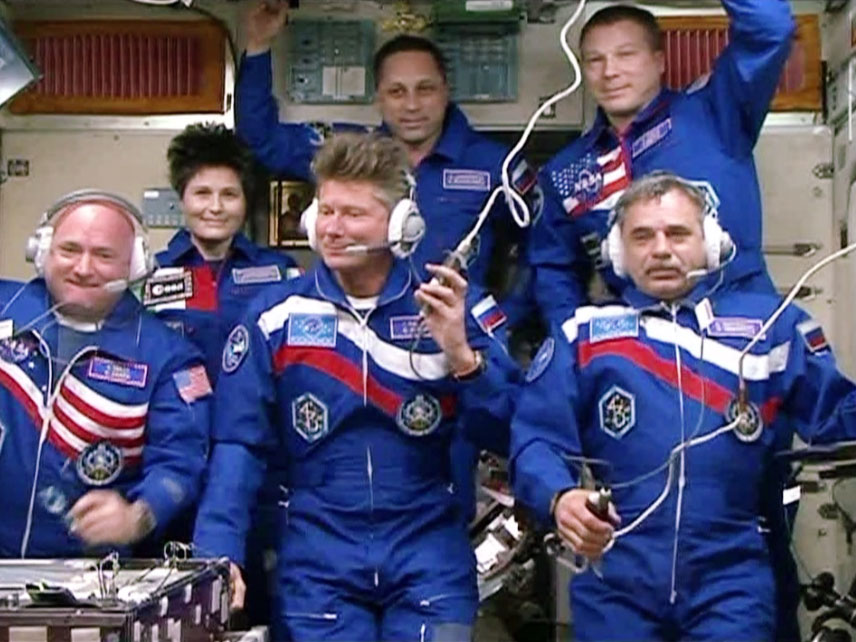 Kelly and Kornienko will spend about a year on the space station to better understand how the human body reacts and adapts to the harsh environment of space. Data from the one-year mission will be used to determine whether there are ways to further reduce the risks on future long-duration missions to an asteroid and eventually Mars.
The crew will support several hundred experiments in biology, biotechnology, physical science and Earth science — research that impacts life on Earth. Data and samples will be collected throughout the year from a series of studies involving Scott and his twin brother, former NASA astronaut Mark Kelly. The studies will compare data from the genetically-identical Kelly brothers to identify any subtle changes caused by spaceflight.
During the expedition, both a U.S. and a Russian cargo resupply vehicle will arrive at the station, bringing several tons of food, fuel, and supplies as well as a host of new science investigations.
Virts, Shkaplerov and Cristoforetti will return home in May 2015. At that time Padalka will become commander for Expedition 44. Padalka will spend six months aboard the outpost, during which he will become the first four-time station commander and record holder for most cumulative time spent in space. Kelly and Kornienko will return to Earth in March 2016 with Expedition 46 after 342 days in space.
You can follow the crew's activities in space on social media. Follow space station activities via Twitter, Facebook, and Instagram. Follow Twitter updates from Terry Virts, Samantha Cristoforetti, and Scott Kelly, and follow Kelly on Instagram.
To join the online conversation about the International Space Station and the one-year mission on Twitter, follow the hashtag #YearinSpace. To learn more about all the ways to connect and collaborate with NASA, visit: https://www.nasa.gov/connect.