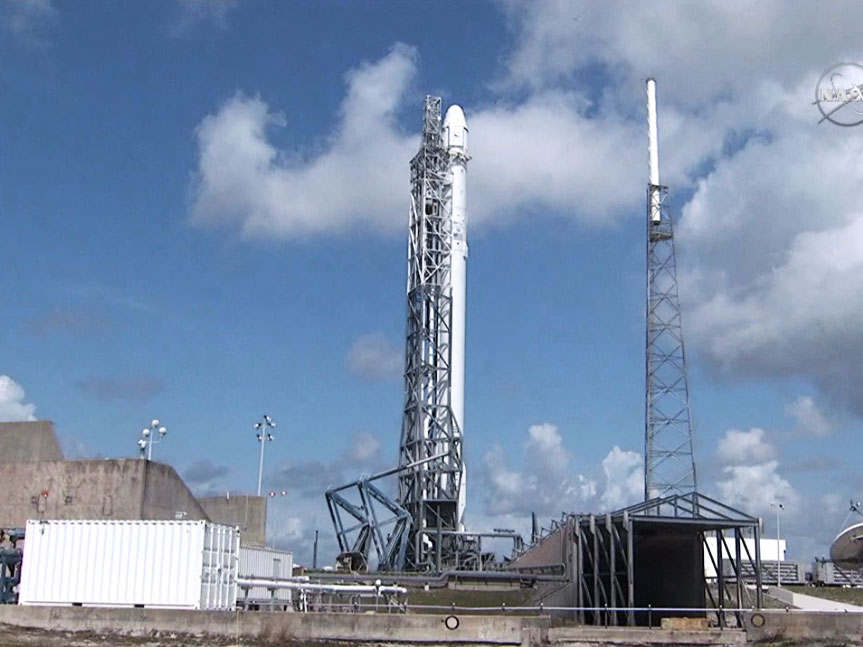 SpaceX is ready to launch its Falcon 9 rocket and Dragon space freighter today at 4:33 p.m. EDT loaded with more than two tons of science gear and crew supplies. Orbiting overhead in the International Space Station the six Expedition 43 crew members observed Cosmonautics Day.
NASA TV will cover the launch of the sixth SpaceX Commercial Resupply Services mission (SpaceX CRS-6) live beginning at 3:30 p.m. today. The Dragon spacecraft will arrive at the space station Wednesday morning for a five week stay delivering gear to support dozens of life science, human research and physics experiments.
The crew relaxed Monday morning as they commemorated the first space flight of cosmonaut Yuri Gagarin back in April 12, 1961. The three astronauts and three cosmonauts went back to work in the afternoon on a wide variety of advanced microgravity science and routine maintenance activities.
NASA astronauts Terry Virts and Scott Kelly joined Italian astronaut Samantha Cristoforetti for a Dragon cargo conference in the afternoon. Cristoforetti will be in the cupola Wednesday morning controlling the Canadarm2 when she captures Dragon around 7 a.m. Virts and Kelly will be assisting her and monitoring Dragon's arrival.