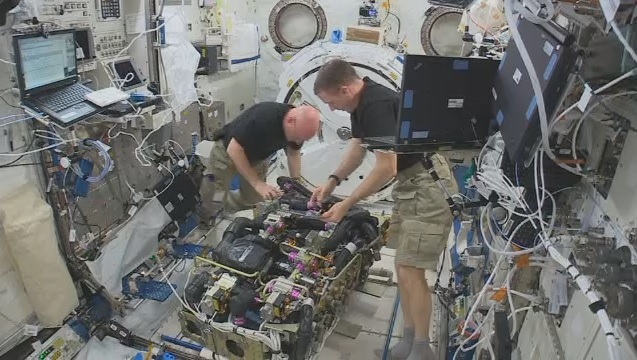 Maintenance and experiment work continued on Thursday for the Expedition 43 crew.
NASA astronauts Terry Virt and Scott Kelly finished the work they've been doing on one of the station's Carbon Dioxide Removal Assemblies (CDRA.) The CDRA system works to remove carbon dioxide from the cabin air, allowing for an environmentally safe crew cabin. Virts also did some preparatory work on a payload rack for a cellular biology experiment scheduled to launch on the next SpaceX mission.
One-Year crew member Scott Kelly also took time to collect a number of acoustic dosimeters which measure noise levels around the station.
ESA astronaut Samantha Cristoforetti did some troubleshooting with the bone densitometer unit and prepared samples for the Binary Colloidal Alloy Test-Low Gravity Phase Kinetics Platform (BCAT-KP) experiment. The BCAT-KP experiment aims to help materials scientists develop new consumer products with unique properties and longer shelf lives