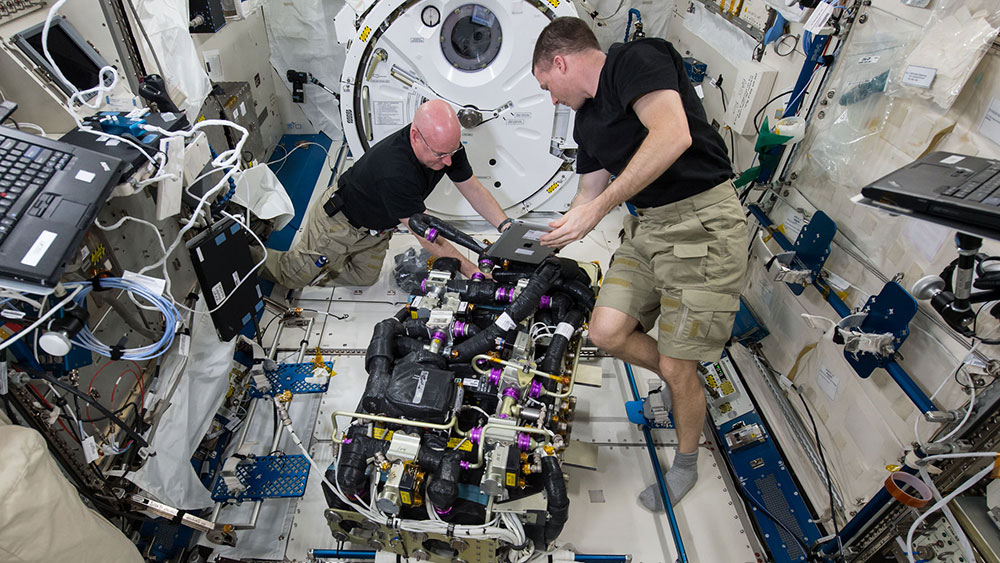 Expedition 43 is packing the SpaceX Dragon space freighter readying the vehicle for its return home and splashdown May 21. The docked ISS Progress 58 resupply ship will fire its thrusters Friday night placing the International Space Station at the correct orbit for next month's Soyuz undocking.
The six-member crew also worked a variety of onboard maintenance ensuring crew safety and the upkeep of station hardware. One-Year crew member Scott Kelly worked on science gear in Japan's Kibo lab module. Commander Terry Virts worked on replacing a Carbon Dioxide Removal Assembly blower fan. Italian astronaut Samantha Cristoforetti routed cables and configured valves to prepare the Permanent Multipurpose Module for its relocation later this month.
On the Russian side of the orbital lab, Flight Engineer Anton Shkaplerov photographed the condition of the Zvezda service module windows. Flight Engineer Gennady Padalka partnered up with One-Year crew member Mikhail Kornienko to study acoustic techniques for immediately locating micrometeoroid impacts on the station's exterior. The trio also continued the maintenance of the Russian station systems.
The return to Earth for NASA's Terry Virts, ESA (European Space Agency) astronaut Samantha Cristoforetti and Russian cosmonaut Anton Shkaplerov now is scheduled for early June. NASA and its international partners set the schedule after hearing the Russian Federal Space Agency's (Roscosmos) findings on the loss of the Progress 59 cargo craft. The exact date has not yet been established and will be announced in the coming weeks.