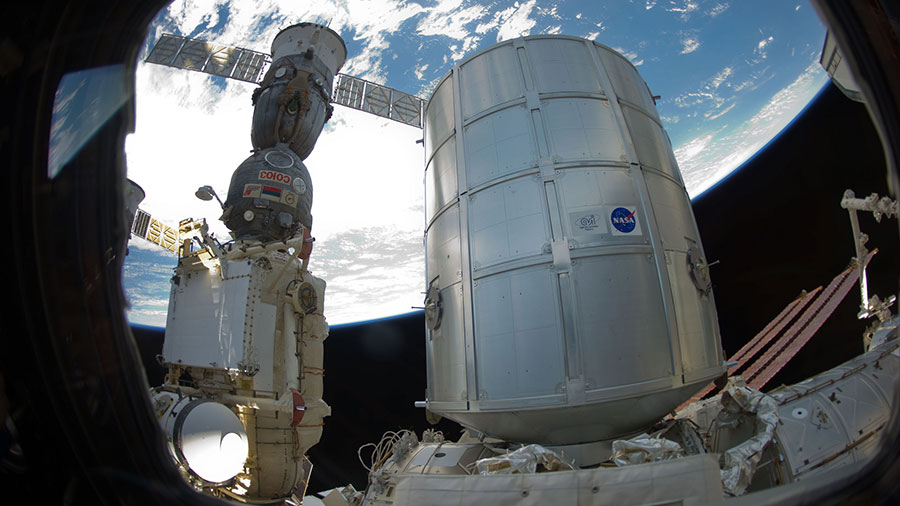 A cargo module is getting ready to be relocated from the Unity module to the Tranquility module Wednesday morning. Meanwhile, the crew also conducted science, health checks and Japanese robotics work.
Commander Terry Virts and One-Year crew member Scott Kelly prepared the Permanent Multipurpose Module (PMM) for its relocation. The duo closed the hatch on the large storage module and configured it for detachment tomorrow morning. Watch NASA TV Wednesday morning at 8 a.m. EDT for live coverage of the PMM relocation and installation that will prepare the International Space Station for future commercial crew vehicles. Also, you can view briefing graphics from a spacewalk to prepare for the PMM work
Italian astronaut Samantha Cristoforetti worked in Japan's Kibo lab module maneuvering its robotic arm's Small Fine Arm to install experiment samples on an external platform. She also photographed her work during the robotics activities.
The three cosmonauts, including One-Year crew member Mikhail Kornienko, worked numerous science experiments and maintenance in the Russian segment. The trio observed how a crew member's metabolism and motion adapt to microgravity, explored how sound waves could help pinpoint micrometeoroid impacts and studied the electromagnetic environment that surrounds space station.