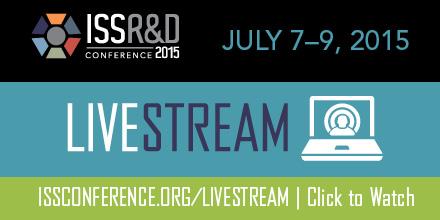 The second full day of the 2015 International Space Station (ISS) Research and Development conference was dominated by panels and technical sessions featuring the leading minds in scientific research from the commercial and academic ISS communities.
Panel sessions were led by a look at what the ISS Program is doing to maximize use of the ISS as a world renowned laboratory in space enabling discoveries in science and technology that benefit life on Earth and exploration of the universe. It featured multiple NASA ISS managers discussing many efforts underway to update and upgrade ISS facilities and processes to improve how the ISS Program provides timely, efficient, customer friendly and cost effective access to the low-Earth orbit microgravity environment for both existing and new users.
Additional panels included discussions about leveraging the station to enable the commercialization of low-Earth orbit, the role of microgravity in ongoing stem cell research, new capabilities in commercial remote sensing from space, and the impact of space science on precision medicine.
A series of technical breakout sessions also took place, focusing on science in areas including drug discovery and delivery, plants and omics in space, the development of commercial capabilities and services, crew research and performance and technology developments on ISS.
The conference is bringing together leaders from industry, academia, and government for three days of detailed presentations and discussions about innovations and breakthroughs in microgravity research, life sciences, materials development technology development, human health and remote sensing.
For more information about the annual ISS R&D Conference, visit the conference website: http://www.issconference.org, or watch a livestream of the conference at http://www.issconference.org/livestream.php