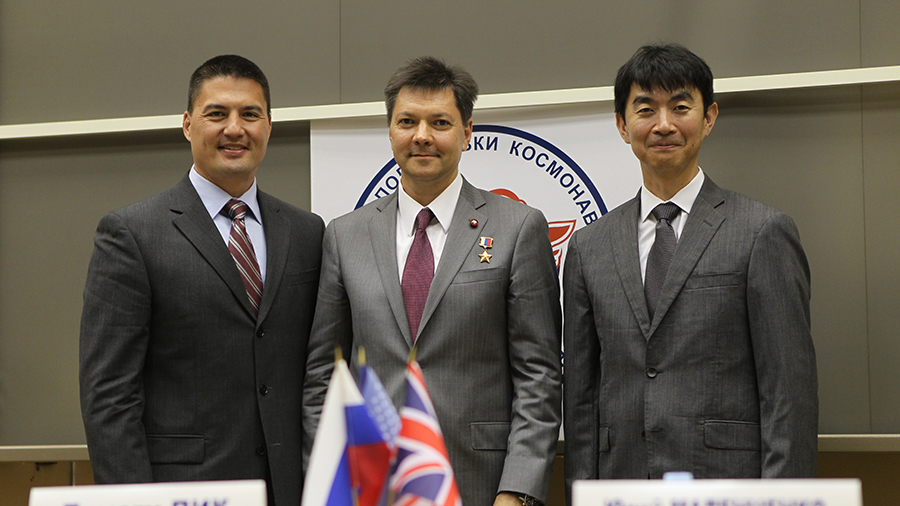 The International Space Station will get an orbital boost tonight to get ready for upcoming Soyuz crew missions. On the ground, three new crew members are preparing for their Friday departure to the launch site at the Baikonur Cosmodrome in Kazakhstan.
The orbiting Expedition 44 trio, with Commander Gennady Padalka and One-Year crew members Scott Kelly and Mikhail Kornienko, is looking forward to expanding to three new crew members. Soyuz Commander Oleg Kononenko and Flight Engineers Kjell Lindgren and Kimiya Yui will take a six-hour ride July 22 in the Soyuz TMA-17M spacecraft for a five month stay in space.
On the station, Kelly is getting Japan's Kibo airlock ready for next week's deployment of 16 Cubesats over four days. Kornienko continued moving supplies from the new ISS Progress 60 space freighter. Padalka worked on the Vozdukh, a Russian carbon dioxide removal system, the Zvezda service module. All the crew members then practiced emergency evacuation procedures.
NASA announced today that four astronauts have been selected to train on commercial crew vehicles. Veteran astronauts Robert Behnken, Sunita Williams, Eric Boe and Douglas Hurley are now training for a commercial crew launch in 2017 as part of NASA's journey to Mars.