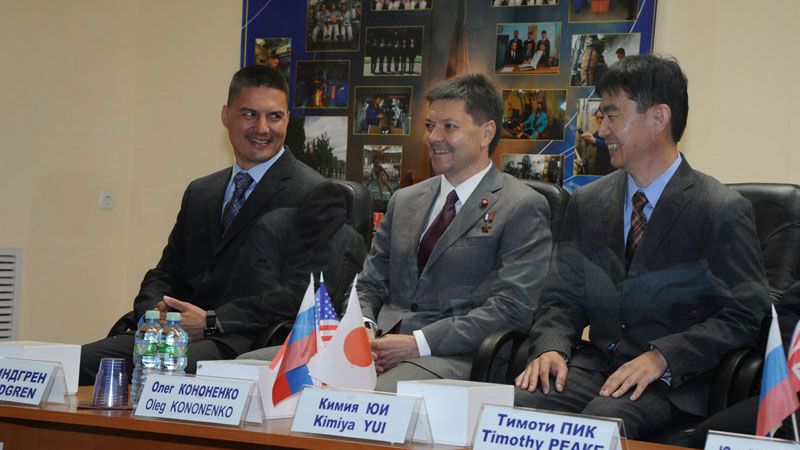 Three new International Space Station crew members are making final preparations a day before their launch to the orbital laboratory. They will join the orbiting Expedition 44 trio which is busy today with a variety of advanced microgravity experiments to benefit life on Earth and future space crews.
An international crew from Russia, Japan and the United States is in Kazakhstan as their Soyuz TMA-17M spacecraft rests on its launch pad counting down to a 5:02 p.m. EDT launch on Wednesday (3:02 a.m. Baikonur time Thursday). Soyuz Commander Oleg Kononenko, Japanese astronaut Kimiya Yui and NASA astronaut Kjell Lindgren will take a six-hour ride to the space station and dock to the Rassvet mini-research module. They will stay on orbit until December.
Waiting for their new crewmates are One-Year crew members Scott Kelly and Mikhail Kornienko and Expedition 44 Commander Gennady Padalka. Kelly was assisted early Tuesday by Padalka as he conducted ultrasound scans on his leg for the Sprint exercise study. Kelly later watered plants for the Veg-01 botany study then worked on the MERLIN science freezer/incubator.
Padalka worked on Progress resupply ship cargo transfers and inventory updates. Kornienko studied cell cultivation for the Kaskad biology study before moving on to radiation research for the Matryeshka-R BUBBLE experiment.