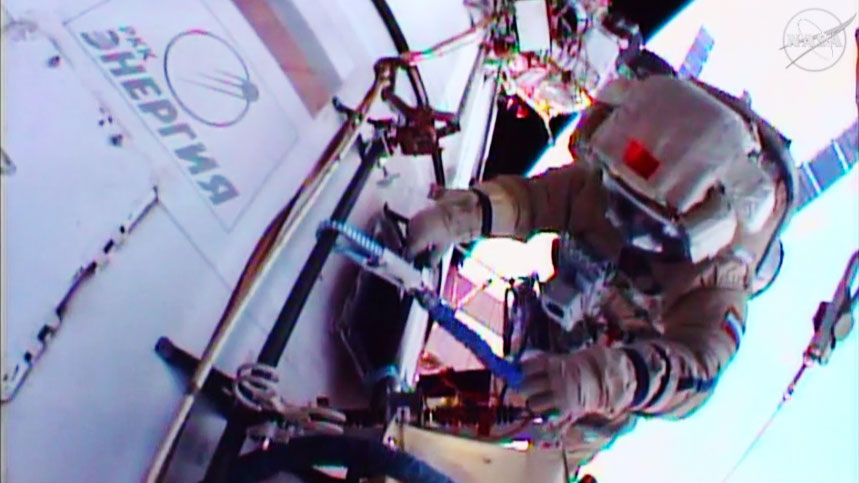 International Space Station Expedition 44 Commander Gennady Padalka and Flight Engineer Mikhail Kornienko of the Russian Federal Space Agency began a planned approximately 6-hour spacewalk from the Earth-facing Pirs Docking Compartment at 10:20 a.m. EDT.
Padalka will be designated extravehicular crew member 1 (EV1) and Kornienko will be extravehicular crew member 2 (EV2). Both will wear Russian Orlan spacesuits bearing blue stripes. Their suits are equipped with NASA helmet cameras to provide close-up views of the work they are performing outside the station.
This is the 188th spacewalk in support of space station assembly and maintenance.
The spacewalking duo will install devices called gap spanners on the hull of the station that will facilitate the movement of crew members on future spacewalks. They also will clean residue off of the windows of the Zvezda Service Module, install fasteners on communications antennas, replace an aging antenna used for the rendezvous and docking of visiting vehicles at Russian docking ports, and photograph a variety of locations and hardware on Zvezda and nearby modules. An experiment designed to measure the space environment first deployed in 2013 will be retrieved and brought inside for its return to Earth.
Flight controllers at the Russian Mission Control Center in Korolev, outside of Moscow, are providing primary support for the spacewalk and coordinating with Mission Control at NASA's Johnson Space Center in Houston.
NASA Television is providing live coverage of the spacewalk at https://www.nasa.gov/nasatv