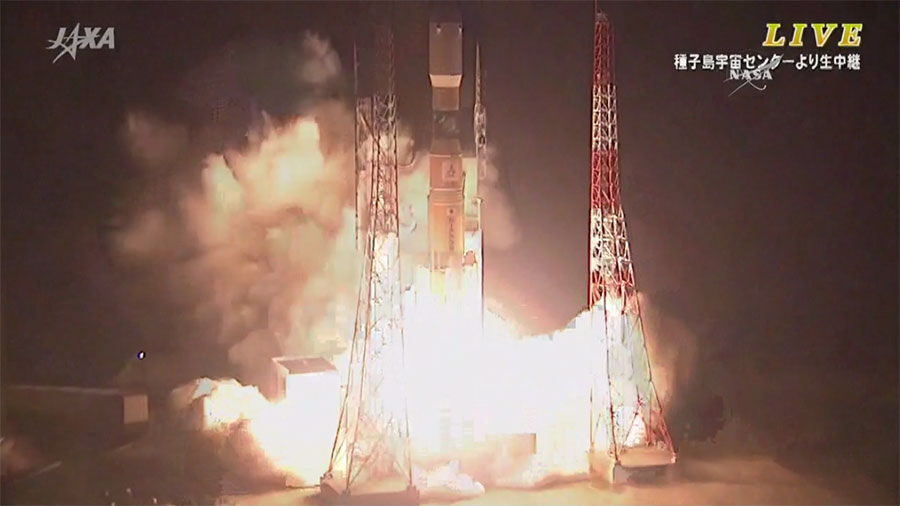 Right on schedule, the Japan Aerospace Exploration Agency (JAXA)'s H-IIB rocket launched at 7:50 a.m. EDT on Wednesday, Aug. 19 from the Tanegashima Space Center in southern Japan. At the time of launch, the space station was flying 250 miles above the Atlantic Ocean east of Brazil.
Approximately 15 minutes after launch, the HTV-5 cargo spacecraft successfully separated from the rocket and began its five-day rendezvous with the International Space Station. The spacecraft is carrying more than 9,500 pounds of research and supplies for the six-person station crew, including the CALorimetric Electron Telescope (CALET) investigation, an astrophysics mission that will search for signatures of dark matter and provide the highest energy direct measurements of the cosmic ray electron spectrum.
JAXA and NASA teams adjusted the cargo manifest to deliver additional food supplies and critical components lost in the failure of the seventh SpaceX commercial resupply services mission. The delivery will ensure the crew has plenty of food through the end of 2015. HTV-5 is delivering two multifiltration beds that filter contaminants from the station's water supply, a Fluids Control and Pump Assembly used for urine processing to support water recycling, a Wring Collector used in conjunction with the on-orbit toilet, a Respiratory Support Pack used in space to provide breathing assistance to an astronaut in the event lung function were impaired and space suit support equipment used during spacewalks.
On Monday, Aug. 24, JAXA Flight Engineer Kimiya Yui will use the Canadarm2 robotic arm to capture the unpiloted HTV spacecraft at approximately 6:55 a.m. NASA TV coverage Friday will begin at 5:15 a.m. NASA Flight Engineer Kjell Lindgren will provide assistance as necessary. The HTV will spend five weeks attached to the Earth-facing port of the Harmony module on the international outpost.
Follow the conversation on Twitter via @Space_Station and the hashtag #HTV5. To learn more about all the ways to connect and collaborate with NASA, visit: https://www.nasa.gov/connect