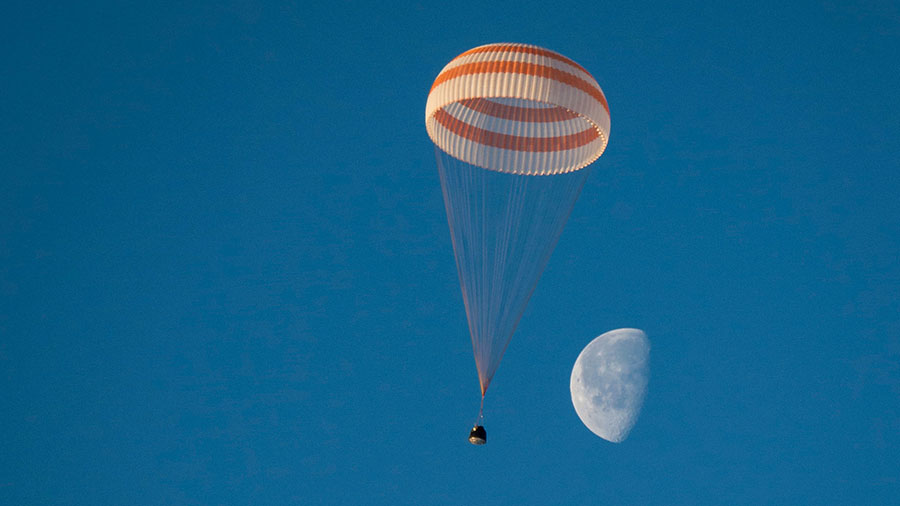 NASA Television is providing live coverage of tonight's return to Earth of International Space Station Expedition 44 crew member Gennady Padalka of Roscosmos and visiting crew members Andreas Mogensen of ESA (European Space Agency) and Aidyn Aimbetov of the Kazakh Space Agency. The crew undocked from the station at 5:29 p.m. EDT, and they are on track for landing in their Soyuz TMA-16M spacecraft at 8:51 p.m., southeast of Dzhezkazgan, Kazakhstan. Watch on NASA TV at https://www.nasa.gov/nasatv.
At this time, no concerns or issues are being worked. The timeline through landing is:
EDT                            EVENT
7:59 p.m.                    Soyuz TMA-16M deorbit burn (4 minutes, 42 seconds duration)
8:26 p.m.                    Soyuz module separation (altitude 87 miles)
8:28 p.m.                    Soyuz atmospheric entry (altitude 62 miles)
8:37 p.m.                    Command to open parachute (6.7 miles)
8:51 p.m.                   Expedition 44 Soyuz TMA-16M landing southeast of Dzhezkazgan,                                     Kazakhstan
Follow the conversation on Twitter using @space_station and the hashtag #ISS.