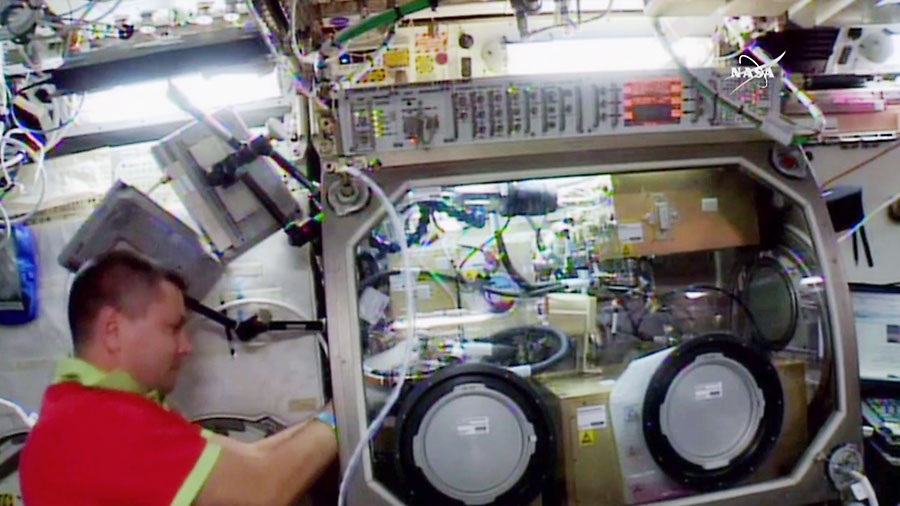 Japan's resupply ship, the "Kounotori" HII Transfer Vehicle-5 (HTV-5), will end its stay at the International Space Station next Monday. A new Russian Progress cargo mission will launch to replenish the crew Oct. 1. While the HTV-5 is winding down its mission, the six-member Expedition 45 is conducting human research and lab maintenance.
First time space-flyers Kjell Lindgren from NASA and Yui Kimiya Yui from Japan checked each other's eyes today for the Ocular Health study. Lindgren then moved on to a six-month inspection of the treadmill inside the Unity module while Kimiya replaced bacteria filters in the Destiny lab module.
Station Commander Scott Kelly started his workday swabbing his body to collect microorganism samples for the Microbiome study. Kelly later cleaned a science freezer before measuring the acoustic levels inside the space station.
There are three veteran cosmonauts onboard the station with a combined 8 missions, including the current mission, on the orbital lab. Flight Engineer Oleg Kononenko worked in the Microgravity Science Glovebox for the OASIS liquid crystal experiment. Flight Engineer Sergey Volkov with One-Year crew member Mikhail Kornienko studied how living in space affects a crew member's cardiovascular and respiratory systems for the DAN experiment.