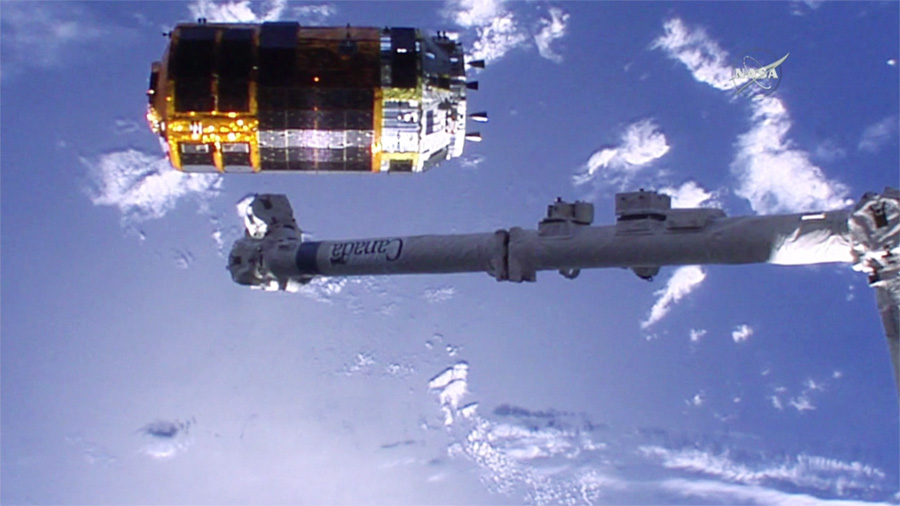 Following a slight delay, Expedition 45 Flight Engineer Kimiya Yui of JAXA, backed up by NASA Flight Engineer Kjell Lindgren, commanded the station's Canadarm2 robotic arm to release JAXA's H-II Transfer Vehicle (HTV)-5 from the International Space Station at 12:53 p.m. EDT while the spacecraft was flying 256 miles above the Southern Pacific, after it unberthed from the space station at 7:12 a.m. EDT.
The HTV-5 will now move away from the orbiting laboratory to a safe location where it will fire its engines to begin a controlled deorbit to reenter Earth's atmosphere. The intense heat of reentry will cause the vehicle to burn up over the Pacific Ocean.
HTV-5 carried a variety of experiments and supplies to the space station, including the NanoRacks External Payload Platform, which can house multiple investigations in the open-space environment of the station, and the CALorimetric Electron Telescope investigation, an astrophysics mission that measures high energy particles to search for dark matter and the origin of cosmic rays.
HTV-5 also delivered materials to support the Twins Study, a compilation of 10 investigations designed to gain broader insights into the subtle effects of and changes that occur in the environment of space as compared to that of Earth by studying two individuals who have the same genetics, but are in different environments. NASA astronaut Scott Kelly is participating from the space station while his identical twin Mark Kelly, a retired astronaut, is participating on Earth. The study includes a suite of integrated human space physiology and cellular-level experiments.
For more information about the International Space Station, visit: www.nasa.gov/station.