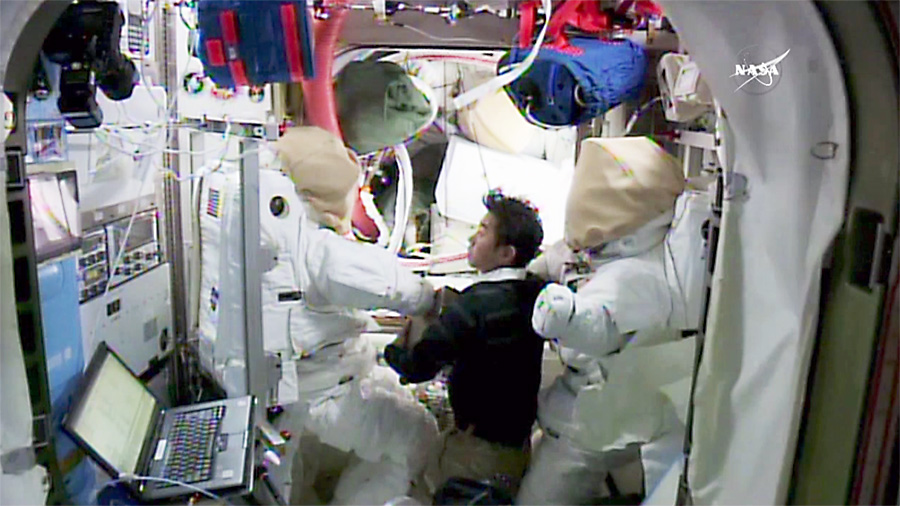 The deployment of this week's final two Cubesats from the Kibo lab module is on hold today. Also, the crew is preparing a pair of spacesuits for an Oct. 28 maintenance spacewalk.
More Cubesats were released overnight and this morning from a deployer mechanism attached to the Kibo lab module. However, the final pair of Cubesats failed to deploy today due to interference with a latch on the deployer. Payload controllers are investigating the issue to determine a future release date of the Cubesats. This week's Cubesats due for release included 14 Dove sats from Planet Labs and two European Cubesats.
NASA astronauts Scott Kelly and Kjell Lindgren are scheduled for a pair of spacewalks in late October and early November to upgrade systems on the outside of the International Space Station. The duo resized their spacesuits and unpacked gear from the U.S. Quest airlock. Japanese astronaut Kimiya Yui assisted the duo as he scrubbed suit cooling loops and dried out suit fans and vent loops.
The three cosmonauts — Flight Engineers Sergey Volkov, Oleg Kononenko and Mikhail Kornienko — worked on science, maintenance and cargo transfers. Volkov studied micrometeoroid impacts, Earth observation techniques and crystal magnetism. Kononenko unloaded gear from the new Progress 61 resupply ship. Kornienko assisted with the Progress unpacking and worked on Russian maintenance tasks.