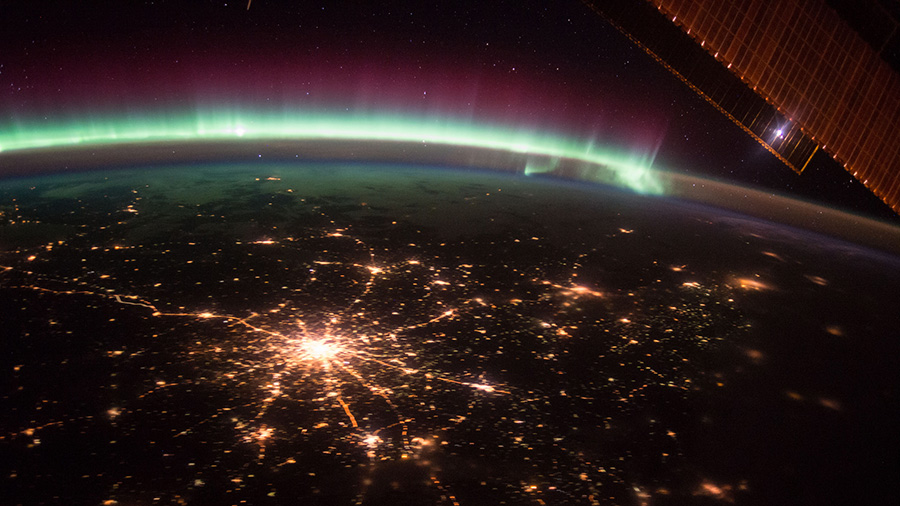 Payload controllers are exploring why two Cubesats were unable to deploy this week from the Kibo lab module so they can be released later. Meanwhile, the six-member Expedition 45 crew is finalizing cable work for the next Cygnus cargo mission, unloading cargo from a new Progress 61 (61P) resupply ship and conducting human research.
NASA astronaut Kjell Lindgren is completing cable connections and routing today in the Unity module, the first U.S. module delivered to space and installed in 1998. The Unity's Earth-facing port, which will be powered by the cables, will host the Orbital ATK Cygnus commercial space freighter due to arrive in early December.
Japanese astronaut Kimiya Yui assisted Lindgren with the Unity cable work before reviewing procedures for the SPHERES Vertigo experiment that uses a pair of bowling ball-sized satellites. Commander Scott Kelly replaced electronic gear inside a science freezer before attaching instruments and sensors to himself for the Sprint exercise study.
Cosmonauts Oleg Kononenko and Mikhail Kornienko continued cargo transfers from the 61P. Kononenko also worked on science hardware that monitors chemical reactions in Earth's upper atmosphere. Kornienko joined veteran cosmonaut Sergey Volkov to process blood samples for the Neiroimmunitet study before working on the Algometriya medical monitoring experiment. Volkov then moved on to more science including the ongoing crystal magnetism experiment, the Calcium bone loss study and the Seismoprognoz earthquake study.