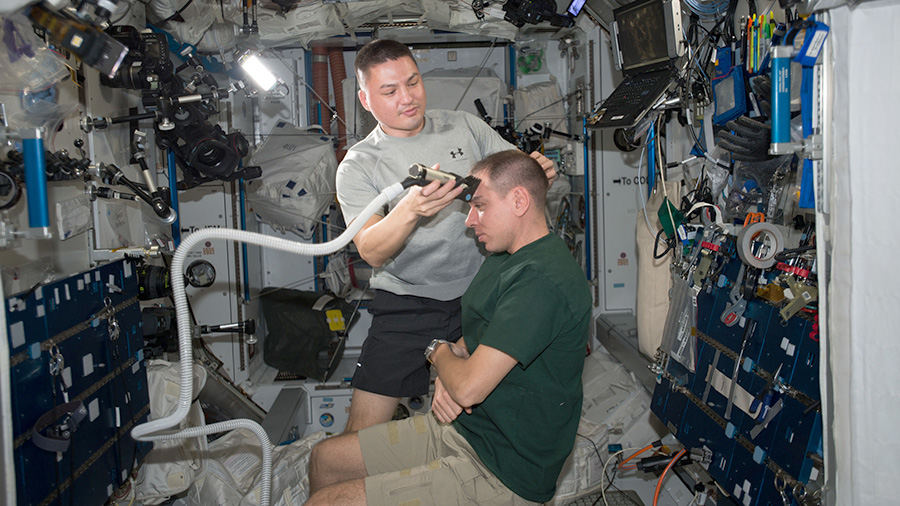 The Expedition 45 residents worked on biomedical experiments Thursday observing how humans adapt to long-term missions in space. A pair of NASA astronauts is also getting ready for two upcoming spacewalks outside the International Space Station.
Commander Scott Kelly joined Flight Engineers Kjell Lindgren, Kimiya Yui and Oleg Kononenko for eye exams throughout the day as part of the ongoing Ocular Health study. Doctors on the ground assisted the crew with remote guidance. Cosmonauts Sergey Volkov and Mikhail Kornienko attached sensors to themselves and monitored their hearts while they exercised on a cycle device.
Meanwhile, Kelly and Lindgren are counting down to a pair of spacewalks, now targeted for Oct. 28 and Nov. 6. The duo serviced their spacesuits today replacing lithium batteries, checking their gloves and verifying power to video cameras.
On the first spacewalk, the spacewalkers will lubricate the tip of the robotic arm Canadarm2, route power cables and place a thermal shroud over the Alpha Magnetic Spectrometer. During the second spacewalk, Kelly and Lindgren will refill coolant reservoirs and configure the port truss cooling system back to its original configuration after repair work completed back in 2012.