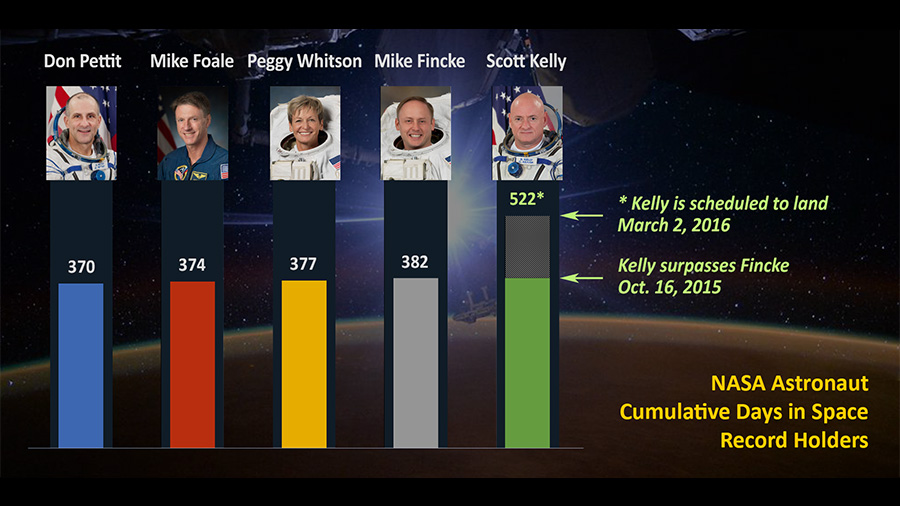 International Space Station Commander Scott Kelly set a new record today becoming the NASA astronaut with the most cumulative days in space, 383 days and counting. Mike Fincke, a two-time space station resident, was the previous record holder at 382 days. Kelly is scheduled to return to Earth on March 2, 2016, for a total of 522 days in space.
Meanwhile, the six-member Expedition 45 crew was working station maintenance, biomedical science and emergency training on Friday.
Kelly, was inside the Kibo laboratory module retrieving two CubeSat nanosatellites from the laboratory's porch, using the Kibo airlock. His fellow NASA astronaut, Kjell Lindgren, joined Japanese astronaut Kimiya Yui for eye scans with an ultrasound and heart exams with an echocardiogram. Kelly then partnered with Lindgren practicing spacewalk rescue techniques using virtual reality goggles.
Cosmonaut Oleg Kononenko got together with Kelly for more eye checks using a Fundoscope. Flight Engineer Sergey Volkov installed a storage unit then serviced a video camera. Kelly's fellow One-Year crew member, Mikhail Kornienko, worked on a radiation detection experiment before moving on to routine maintenance in the station's Russian segment.