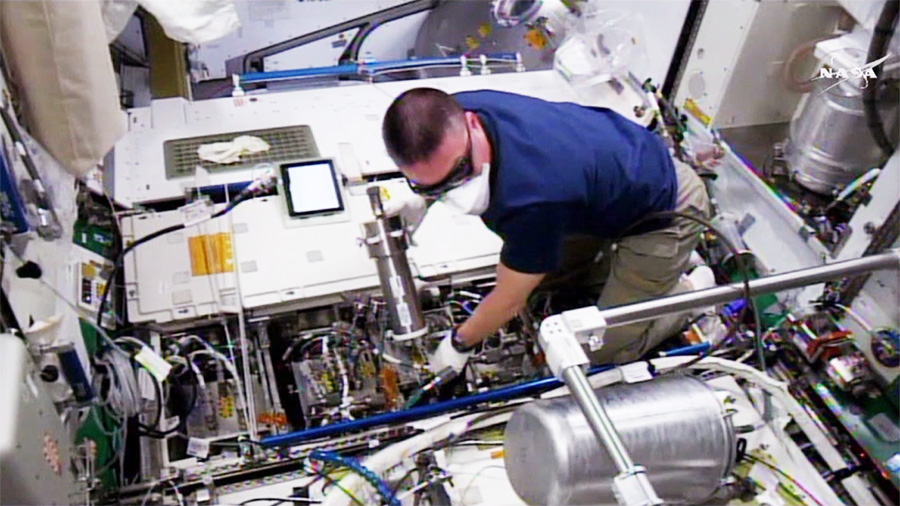 Two astronauts are getting ready for a six-hour, 30-minute spacewalk Wednesday morning. They and the rest of the Expedition 45 crew also worked on international science and laboratory maintenance.
Commander Scott Kelly and Flight Engineer Kjell Lindgren are preparing for two spacewalks on Oct. 28 and Nov. 6 to upgrade and service the International Space Station. Lindgren was assisted by Japanese astronaut Kimiya Yui checking out the SAFER spacesuit jetpacks a spacewalker would use in the unlikely event they became untethered from the station. Kelly collected and organized the spacewalk tools he and Lindgren will use during both spacewalks. Watch a 3D animation illustrating the Oct. 28 spacewalk activities.
Kelly started his day with Mikhail Kornienko, his One-Year mission crewmate, as they swapped turns on the Fine Motor Skills experiment. Yui spent his morning stowing a small satellite deployer that ejected 14 Cubesats outside the Kibo lab module a few weeks ago.
Cosmonaut Sergey Volkov explored human metabolism in space and charged a satellite phone. Cosmonaut Oleg Kononenko looked at microgravity's effects on a crew member's cardiac and respiratory behavior before testing remotely controlling a rover on the ground from space.