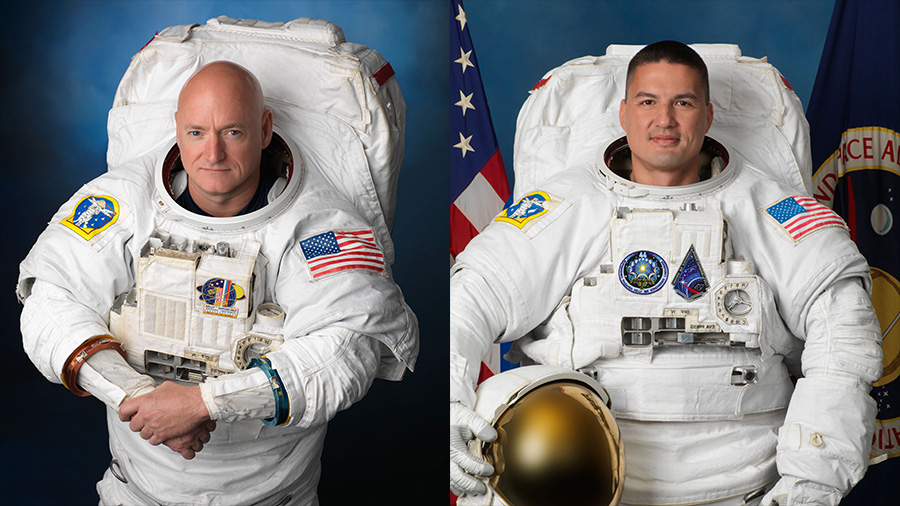 NASA astronauts Scott Kelly and Kjell Lindgren will begin the first of two spacewalks Wednesday morning to service and upgrade the International Space Station. The duo have completed reviewing their procedures, preparing their U.S. spacesuits and organizing their tools inside the U.S. Quest airlock. NASA Television will cover the spacewalk live beginning at 6:30 a.m. EDT.
They will spend six hours and 30 minutes to cover the Alpha Magnetic Spectrometer with a thermal blanket, lubricate the leading edge of the Canadarm2 and route power and data cables for a future docking port. This will be the first spacewalk for both astronauts who will also be assisted from inside the station by Japanese astronaut Kimiya Yui. Monitoring the activities from the ground will be Tracy Caldwell, a veteran of three spacewalks.
Meanwhile, on the Russian side of the orbital laboratory, the trio of veteran cosmonauts stayed focused on their ongoing maintenance and science activities. Sergey Volkov spent time assisting Kelly and Lindgren today then looked at how the immune system is affected by stress in space. One-Year crew member Mikhail Kornienko explored blood circulation adaptation then worked on cargo transfers from the Progress 60 resupply ship. Oleg Kononenko studied material physics as he observed plasma crystals and liquid crystals.