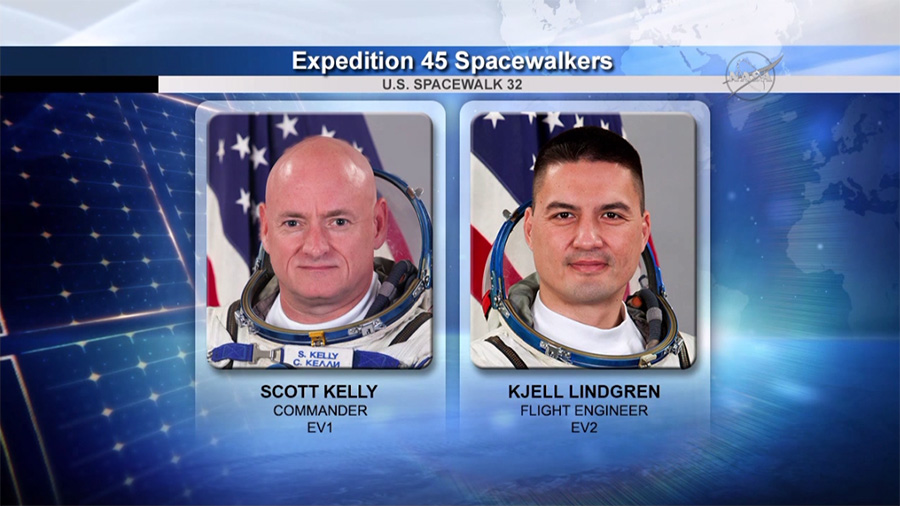 NASA astronauts Scott Kelly and Kjell Lindgren ended their spacewalk at 3:19 p.m. EDT with the repressurization of the U.S. Quest airlock, having completed most of the major tasks planned for their excursion outside the International Space Station.
Kelly and Lindgren applied a thermal cover on the Alpha Magnetic Spectrometer; applied grease to a number of components in one of the latching ends of the Canadarm2 robotic arm; and began work to rig power and data system cables for the future installation of a docking port to the station that will be used for the arrival of the Boeing Starliner CST-100 and SpaceX Crew Dragon spacecraft.
Greasing numerous parts of the robotic arm took somewhat longer than anticipated, and flight controllers chose to forego the lubrication of one component. However, engineers are satisfied the work that was completed sufficiently enhances the performance of the latching end effector. A lower priority task to reinstall a valve on the station will be assigned to crew members during a future spacewalk.
The 7-hour and 16-minute spacewalk was a first for both astronauts. Crew members have now spent a total of 1,184 hours and 16 minutes conducting space station assembly and maintenance during 189 spacewalks.
Kelly and Lindgren will venture outside the International Space Station again on Friday, Nov. 6. The two spacewalks were scheduled around milestones in space. Tomorrow, Kelly becomes the U.S. astronaut who has lived in space the longest during a single U.S. spaceflight, and Monday the crew celebrates the 15th year of a continuous human presence in space aboard the station.
During the second spacewalk, the astronauts will restore a truss cooling system to its original configuration following a 2012 spacewalk in which another team of astronauts attempted to isolate a leak of ammonia coolant. They also will top off ammonia on the station's truss reservoirs. NASA Television coverage will begin at 5:45 a.m. EST ahead of the spacewalk's planned start time of 7:10 a.m.
Stay up-to-date on the latest space station news at: https://www.nasa.gov/station