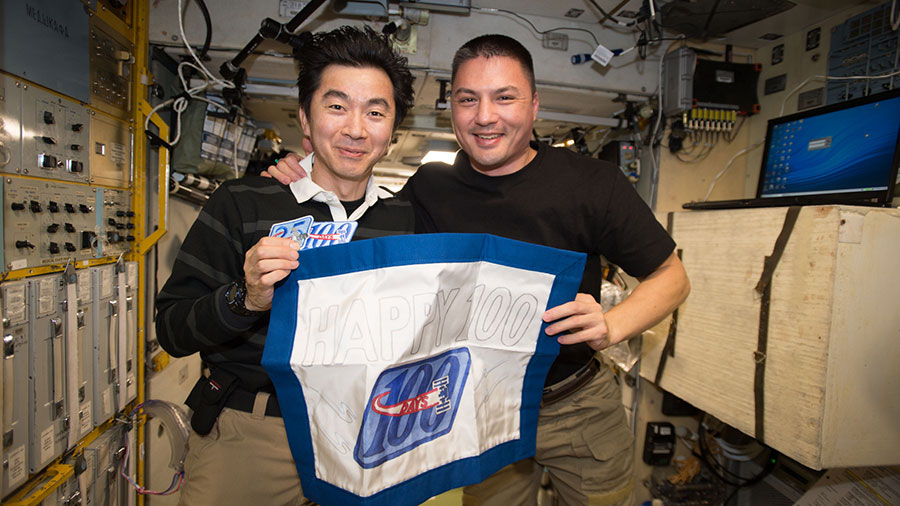 A trio of astronauts are still cleaning up after last week's spacewalk outside the International Space Station. The cosmonauts are working on their suite of advanced space science and maintenance tasks. Also, the crew is preparing for the launch of the next Orbital ATK commercial cargo mission targeted for Dec. 3.
Japanese astronaut Kimiya Yui joined NASA astronauts Scott Kelly and Kjell Lindgren for the post-spacewalk cleanup work in the U.S. Quest airlock. The team stowed their spacewalk tools and hardware and scrubbed cooling loops in the U.S. spacesuits.
Kelly and Yui also partnered together to ready the station for the arrival of the Orbital ATK Cygnus cargo craft. The duo reviewed installation procedures for the Nitrogen Oxygen Recharge System scheduled to be delivered aboard the Cygnus.
In the Russian segment of the station, three veteran cosmonauts were busy researching a wide variety of subjects and working on Russian station systems. Oleg Kononenko looked at how microgravity affects a crew member's spacecraft piloting skills. Sergey Volkov explored how vibrations on the station affect experiment results. One-Year crew member Mikhail Kornienko stowed gear inside an outgoing Progress craft for disposal.