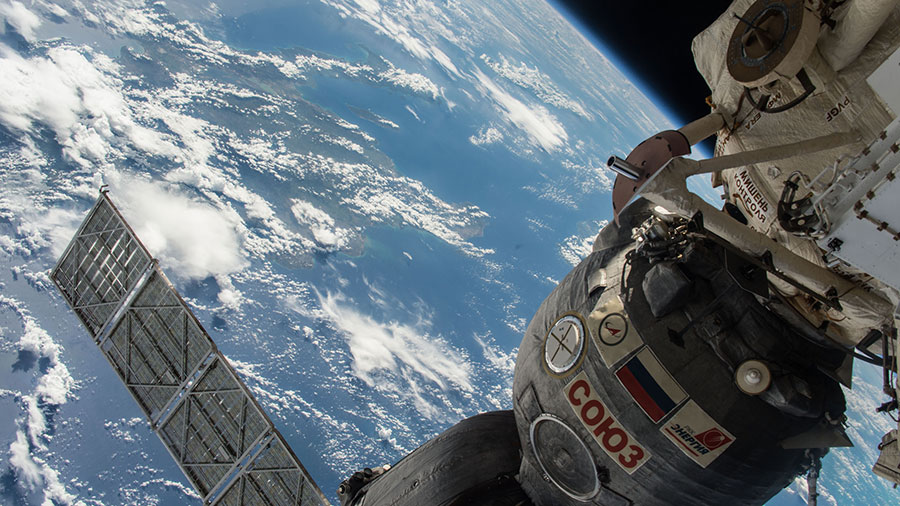 The Expedition 45 crew is wrapping up the work week on biomedical science and Cygnus mission preparations. The orbital residents also worked maintenance throughout the numerous modules inside the International Space Station.
Flight Engineers Kjell Lindgren and Kimiya Yui, who both have been in space over 100 days, checked their vision and blood pressure for the long-running Ocular Health study. Yui then worked on experiment hardware inside Japan's Kibo lab module.  Lindgren explored growing food in space for the Veggie botany experiment.
Commander Scott Kelly continued installing gear to prepare for the early December arrival of the Orbital ATK Cygnus cargo craft.  He also worked on station maintenance tasks and cleaned his crew quarters.
On the Russian side of the orbital lab, One-Year crew member Mikhail Kornienko explored human digestion in space and sampled the station's atmosphere and surfaces for microbes. Veteran cosmonauts Oleg Kononenko and Sergey Volkov worked in the Zvezda service module to replace a battery and repair overhead sheets. Volkov is the newest Expedition 45 crew member having been in space 70 days.