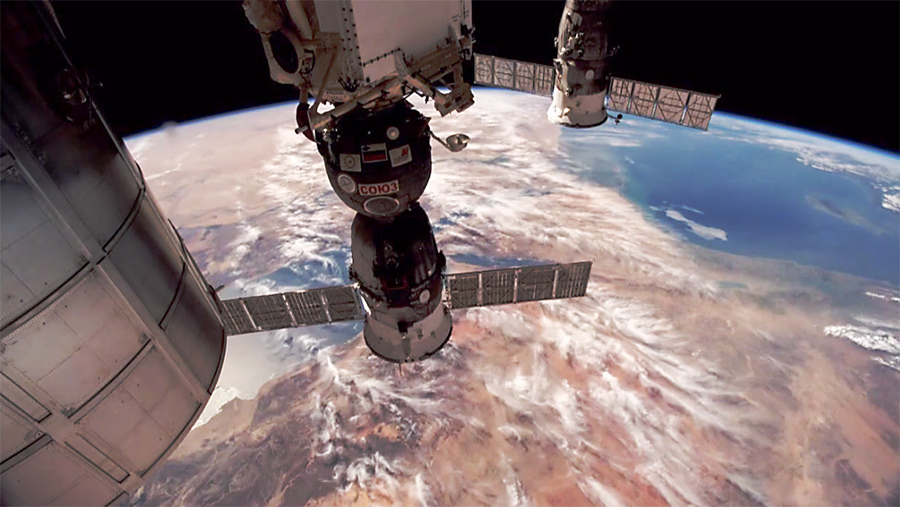 The six-member Expedition 45 crew continued exploring more life science Thursday.
Commander Scott Kelly, who is comparing his space-borne body with his ground-based twin brother and ex-astronaut Mark Kelly, collected and stored blood and urine samples for the ongoing Twins study. Flight Engineer Kjell Lindgren explored using a joystick that transmits sensitive vibrations to control a rover on the ground from a spacecraft. Japanese astronaut Kimiya Yui studied the atrophy of skeletal muscle cells caused by the lack of gravity while living in space.
Kelly and Yui later partnered up to install and route cables in the U.S. Destiny lab module. Those cables will standardize and increase the efficiency of video, audio and telemetry data links with future crew and cargo vehicles docking to the station.
In the Russian segment of the orbital laboratory, cosmonaut Sergey Volkov studied the depletion of calcium in a crew member's bones. He then joined Oleg Kononenko to research acoustic methods for detecting micrometeoroid impacts on the station. Kononenko also got together with One-Year crew member Mikhail Kornienko to explore microgravity's effects on the human cardiovascular and respiratory system.
At about 2:14 a.m. Central time this morning, a Potential Fire Alarm sensor was triggered aboard the International Space Station and was traced to the European Modular Cultivation System (EMCS) experiment in Express Rack 3 in the Columbus module. The experiment is enclosed and no smoke or fire was detected. Sensors indicated a slight rise in carbon monoxide inside EMCS, while background readings in all surrounding areas remained normal. The crew was never in any danger and the event only lasted a few minutes. As a precautionary measure, Express Rack 3 was temporarily powered down.  The rack has since been repowered with the exception of EMCS. There was no impact to station science.