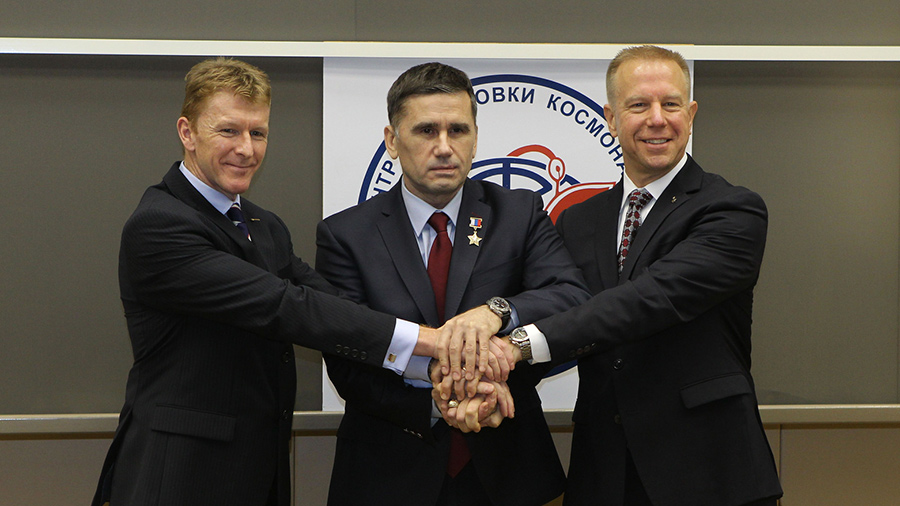 The International Space Station residents are gearing up to host the Orbital ATK Cygnus space freighter when it arrives Dec. 6. On the ground, a new trio of Expedition 46-47 crew members headed to their launch site at the Baikonur Cosmodrome in Kazakhstan before their mid-December mission.
NASA astronauts Scott Kelly and Kjell Lindgren trained for the rendezvous and robotic capture of Cygnus after its Dec. 3 launch from the Kennedy Space Center. The Cygnus will deliver supplies for the crew and new science experiments Dec. 6 when it is captured and berthed to the Unity module.
Three new station crew members are in the final stage of their mission training before beginning a six-month mission to the orbital laboratory. First-time British astronaut Timothy Peake will join veteran station residents Yuri Malenchenko and Timothy Kopra inside the Soyuz TMA-19M spacecraft for a six-hour ride to the space station set for Dec. 15.
Meanwhile, advanced space science continued today as the crew explored radiation, blood circulation and microbes living on crew members. Scientists hope to use the results from the many experiments on the station to benefit people on Earth and future crews.
Finally, the crew is packing the Soyuz TMA-17M spacecraft before its undocking Dec. 11. The Soyuz will bring home Expedition 45-46 crew members Lindgren, Soyuz Commander Oleg Kononenko and Japanese astronaut Kimiya Yui.