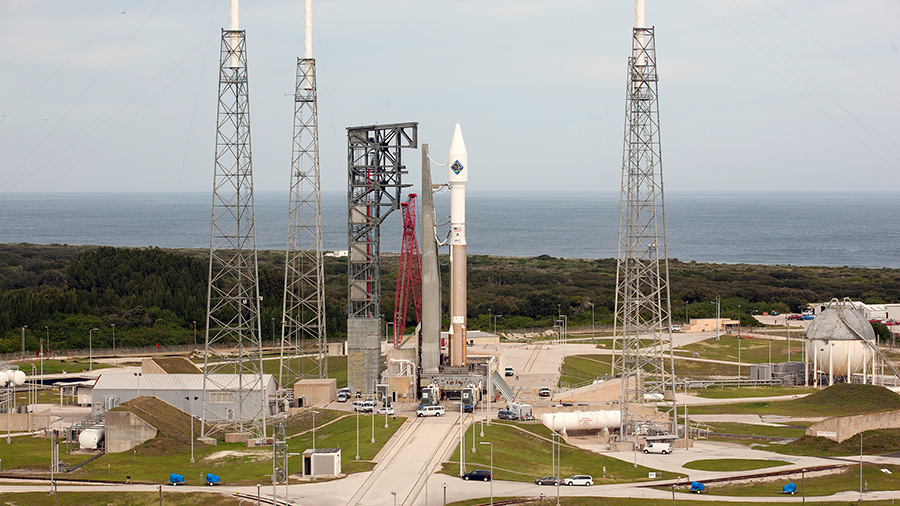 For the latest Orbital ATK mission information visit the NASA Orbital blog here… https://blogs.nasa.gov/orbital
Countdown is continuing and progressing smoothly for today's scheduled launch at 5:33 p.m. EST of the fourth Orbital ATK commercial resupply services mission to the International Space Station. Fueling operations have begun. Today's 30-minute launch window now has a 40 percent chance of acceptable conditions. The primary concern is that wind speed is trending higher, along with continued cumulus clouds, thick clouds, and ground winds.
The Cygnus spacecraft is set to lift off on a United Launch Alliance Atlas V rocket from Space Launch Complex 41 at Cape Canaveral Air Force Station in Florida, carrying more than 7,000 pounds of supplies and science investigations.
NASA television coverage will begin at 4:30 p.m. and can be seen at https://www.nasa.gov/nasatv. Significant countdown milestones are below.
The cargo includes dozens of science and research investigations that will occur during Expeditions 45 and 46. For a mission overview, press kit, launch countdown coverage, NASA's launch blog, and more information about the mission, visit: https://www.nasa.gov/orbitalatk
To join the online conversation about the Orbital ATK CRS-4 launch and the International Space Station on Twitter, follow @Space_Station and #Cygnus.
Orbital ATK Countdown & Launch Highlights
EST                        Event
3:03 p.m.               T-2 hours and counting
Pressurize Centaur liquid oxygen storage tank to chill down level
Start Atlas liquid oxygen ground chill down
Start Centaur bottle pressurization to flight level
Pressurize Atlas RP-1 tank to step II
3:13 p.m.                Start Centaur liquid oxygen transfer line chill down
3:20 p.m.                Begin Centaur liquid oxygen tanking
3:33 p.m.                Start Atlas liquid oxygen tanking operations
3:38 p.m.                Start Centaur liquid hydrogen transfer line chill down
3:53 p.m.                Initiate Centaur engine chill down
4:08 p.m.                Start flight control final preparations
4:23 p.m.                Start flight open loop Flight Termination System test
4:30 p.m.                NASA Television Coverage Begins
4:47 p.m.                Initiate fuel fill sequence
4:59 p.m.                Begin 30 minute hold at T-4 Minutes
5:03 p.m.                Weather Briefing
5:26 p.m.                Status check to continue countdown
5:29:11 p.m.           T-4 Minutes and counting
5:33:08 p.m.           RD-180 engine ignition
5:33:11 p.m.           Launch
5:33:29 p.m.           Begin pitch/yaw/roll maneuver
5:34:33 p.m.           Mach 1
5:34:44 p.m.           Maximum Dynamic Pressure
5:37:26 p.m.           Atlas booster engine cutoff (BECO)
5:37:32 p.m.           Atlas booster/Centaur separation
5:37:42 p.m.           Centaur first main engine start (MES1)
5:37:50 p.m.           Payload Fairing jettison
5:51:27 p.m.           Centaur first main engine cutoff (MECO1)
5:54:16 p.m.           Cygnus spacecraft separation
~6:33 p.m.              Cygnus solar array deploy
~7:33 p.m.              Post-Launch News Conference on NASA Television