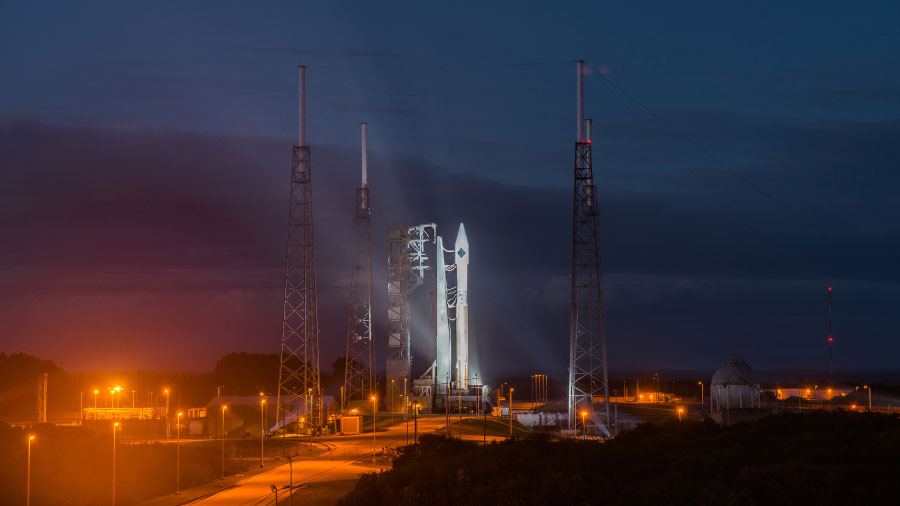 For the latest Orbital ATK mission information visit the NASA Orbital blog here… https://blogs.nasa.gov/orbital
Countdown is continuing for today's scheduled launch of the fourth Orbital ATK commercial resupply services mission to the International Space Station. The Cygnus spacecraft is set to lift off on a United Launch Alliance Atlas V rocket from Space Launch Complex 41 at Cape Canaveral Air Force Station in Florida, carrying more than 7,000 pounds of supplies and science investigations. The chance for favorable weather at the 4:44 p.m. EST liftoff is 70 percent.
Winds at the launch site have dropped dramatically in recent hours, but are predicted to increase slightly through the launch window.
NASA television coverage has begun and can be seen at https://www.nasa.gov/nasatv. Significant countdown milestones are below.
The cargo includes dozens of science and research investigations that will occur during Expeditions 45 and 46. Science payloads will offer a new life science facility that will support studies on cell cultures, bacteria and other microorganisms; a microsatellite deployer and the first microsatellite that will be deployed from the space station; and experiments that will study the behavior of gases and liquids, clarify the thermo-physical properties of molten steel, and evaluate flame-resistant textiles.
Cygnus also will deliver replacement cargo items including a set of Microsoft HoloLens devices for use in NASA's Sidekick project, a safety jet pack astronauts wear during spacewalks known as SAFER, and high pressure nitrogen and oxygen tanks to plug into the station's air supply network.
For a mission overview, press kit, launch countdown coverage, NASA's launch blog, and more information about the mission, visit: https://www.nasa.gov/orbitalatk.
To join the online conversation about the Orbital ATK CRS-4 launch and the International Space Station on Twitter, follow @Space_Station and the hashtag #Cygnus.