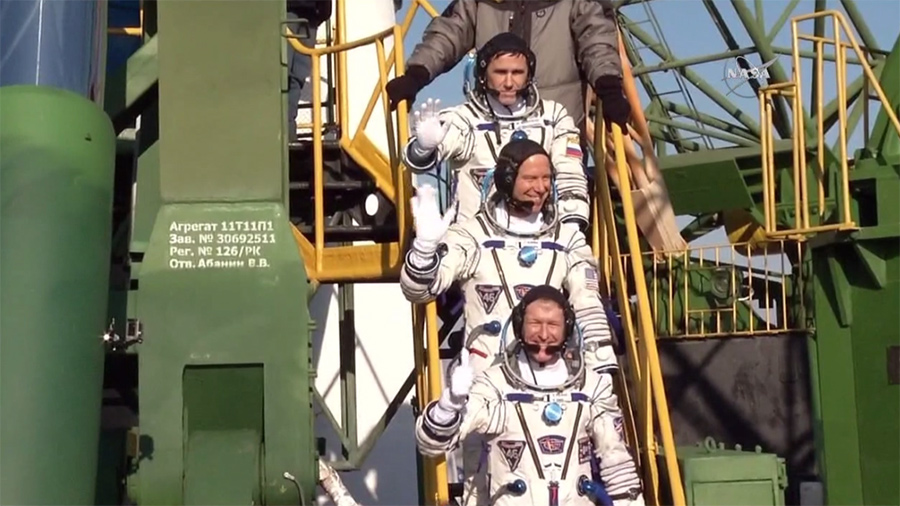 Astronauts Tim Kopra of NASA and Tim Peake of ESA (European Space Agency) and cosmonaut Yuri Malenchenko of Roscosmos have boarded the Russian Soyuz TMA-19M spacecraft that will carry them to the International Space Station (ISS). All is on track for lift off at 6:03 a.m. EST. NASA Television coverage of the launch will begin at 5 a.m. Watch on NASA TV or at: https://www.nasa.gov/nasatv.
The crew is scheduled to dock to the station at 12:24 p.m. after a six-hour journey. The trio will join Expedition 46 Commander Scott Kelly of NASA and Flight Engineers Mikhail Kornienko and Sergey Volkov, both of Roscosmos, bringing the total to six crew members aboard the ISS after operating with only three crew members for four days.
The incoming crew replaces Expedition 45 Flight Engineers Kjell Lindgren of NASA, Oleg Kononenko of Roscosmos and Kimiya Yui of Japan Aerospace Exploration Agency (JAXA), who all returned to Earth Dec. 11, 2015. While both Kopra and Malenchenko have previously worked aboard the orbiting laboratory, this trip marks the first for Peake.
To learn more about the International Space Station, visit:
For launch coverage and more information about the mission, visit: https://blogs.nasa.gov/spacestation/.
To join the online conversation about the International Space Station, follow @Space_Station.