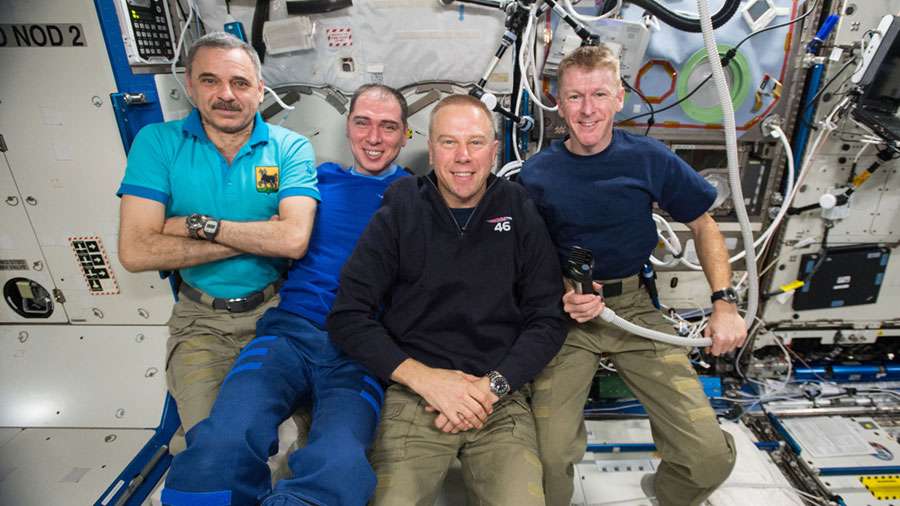 Two astronauts were back at work today preparing the spacesuits and tools they will use next week during a maintenance spacewalk. The crew also wrapped up some plumbing work while continuing a wide variety of space science.
Flight Engineers Tim Kopra and Tim Peake checked out their U.S. spacesuits ensuring a good fit and readied their spacewalk tools. The duo from the United States and Britain will exit the International Space Station Jan. 15 to replace a failed voltage regulator and work on other maintenance tasks.
The station's restroom, the Waste and Hygiene Compartment, is back in operation after some parts and cables were replaced. That work was completed after a leak was discovered.
Commander Scott Kelly joined his fellow One-Year crewmate Mikhail Kornienko for the ongoing Fluid Shifts study. That experiment explores how microgravity increases brain pressure pushing back on a crew member's eye possibly affecting their vision.
Kelly observed a moment of silence this morning to mark the 5th anniversary of the shootings in Tucson, AZ. Rep. Gabrielle Giffords, married to Kelly's twin brother and ex-astronaut Mark Kelly, was gravely wounded that day. Kelly, who was in space that day as commander of Expedition 26, was joined by his crewmates today for the silent moment.