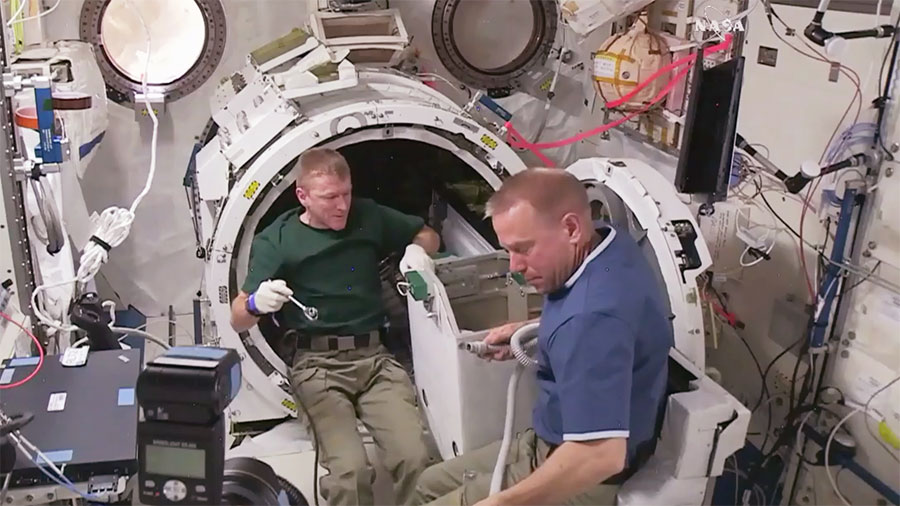 Three Expedition 46 astronauts continued more eye checks today to study how living in space affects vision. Their cosmonaut counterparts prepared for a spacewalk, met for an inventory conference and worked on Russian science experiments.
Commander Scott Kelly joined British astronaut Tim Peake today for ultrasound scans on their eyes. NASA astronaut Tim Kopra also partnered with Kelly for a cardiac exam as part of the Ocular Health study. Doctors are exploring why some crew members have reported vision changes after completing their months-long missions aboard the International Space Station.
Kelly later worked to install a device called the Electrostatic Levitation Furnace (ELF) in the Japanese Kibo laboratory module. The ELF uses an electric field and a laser to heat metals and study their properties that cannot be observed on Earth. However, that work was put on hold after some installation issues.
Two veteran cosmonauts, Sergey Volkov and Yuri Malenchenko, reviewed their procedures for a spacewalk to install hardware and science experiments planned for Feb. 3 and scheduled to be broadcast live on NASA TV. They also joined fellow cosmonaut Mikhail Kornienko to discuss the station's inventory plan and worked on maintenance and research in their segment of the orbital lab.