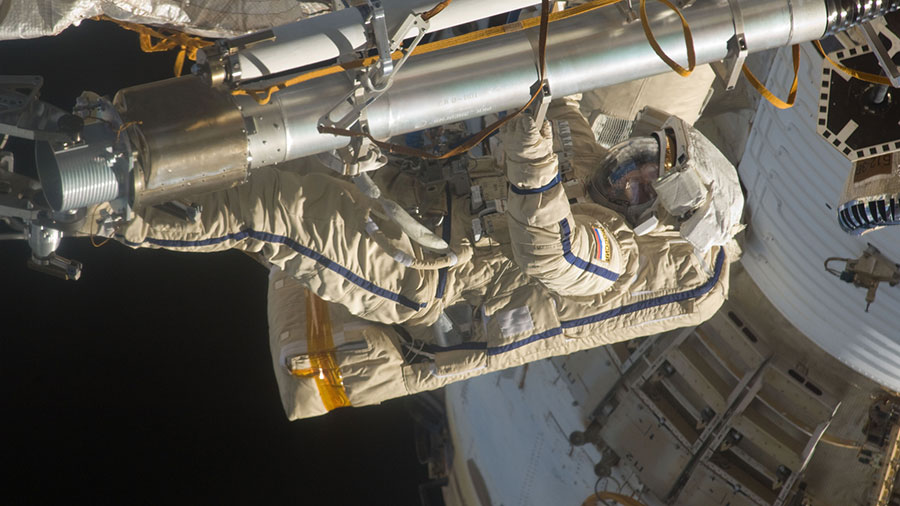 Two cosmonauts are getting ready for a spacewalk to install hardware and science experiments outside the International Space Station's Russian segment. Meanwhile, the other four crew members are working on research hardware, water testing and trash stowage.
Veteran flight engineers and spacewalkers Yuri Malenchenko and Sergey Volkov are finalizing their reviews and preparations for the second Expedition 46 spacewalk in less than a month. NASA Television will provide live coverage of the Russian spacewalk set to begin tomorrow at 8:10 a.m. EST. They are scheduled to work outside in their Russian Orlan spacesuits for about 5 hours and 30 minutes on scheduled maintenance tasks.
Commander Scott Kelly set up a portable 3D printer today inside the Destiny laboratory module. The test fabrications on the device may precede the installation of a full-sized 3D printer in the future. Kelly also replaced fuel gear inside the Combustion Integrated Rack.
European astronaut Tim Peake collected and tested samples from water dispensers in the U.S. and Russian segments of the orbital lab. The samples will also be returned to Earth inside a Soyuz spacecraft for further analysis. NASA astronaut Tim Kopra continued stowing trash inside the Orbital ATK cargo craft while also checking the status of pistol grip tools used during spacewalks.