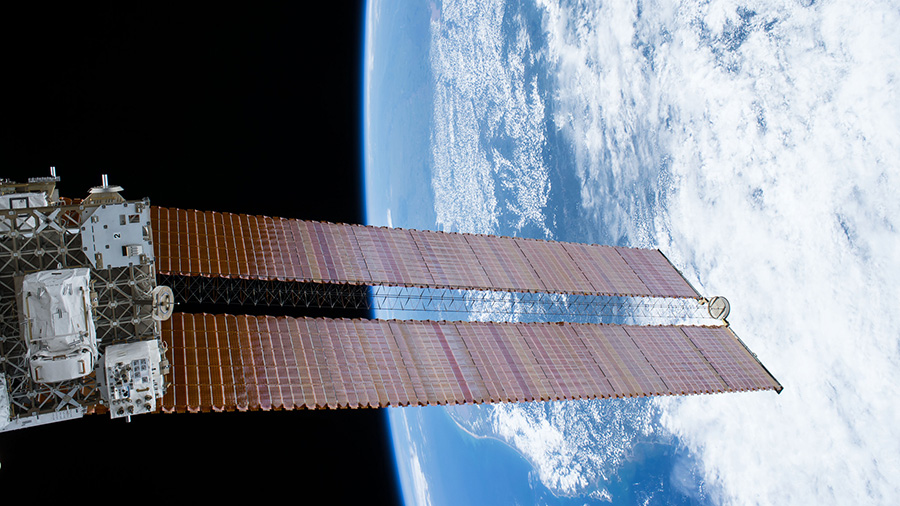 The International Space Station raised its orbit again today as three crew members prepare for a March 1 landing while another trio gets ready for a March 18 launch. Meanwhile, advanced research continued inside the orbital laboratory to improve life on Earth and for future space residents.
Today's orbital reboost places the station at the correct altitude for the March 1 undocking of Soyuz Commander Sergey Volkov and One-Year crew members Scott Kelly and Mikhail Kornienko. Their undocking will leave the Poisk module's docking port vacant where a trio of Expedition 47 crew members will dock two-and-a-half weeks later inside the Soyuz TMA-20M spacecraft.
Today, the Expedition 46 crew participated in a variety of human research exploring how the heart adapts to life in space, the risk of atherosclerosis in astronauts and how microgravity affects an astronaut's vision. The crew also sampled the station's air and surfaces for microbes to learn how to prevent contamination in future spacecraft.
Another spacecraft is being prepared for departure Friday morning when it will be released from the grips of the 57.7 foot long Canadarm2 robotic arm. The Orbital ATK Cygnus cargo craft is being loaded with trash before NASA astronauts Kelly and Tim Kopra release Cygnus using the robotics controls inside the seven-window cupola. NASA Television will cover the activities live Friday beginning at 7 a.m. EST.