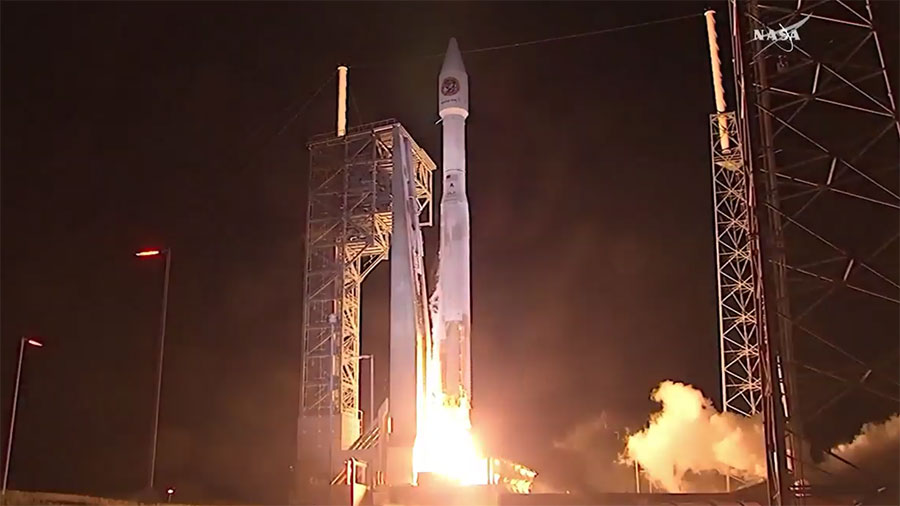 The United Launch Alliance Atlas V rocket lifted off at 11:05 p.m. EDT/3:05 a.m. UTC, and Cygnus has begun its journey to the International Space Station with an arrival on March 26. Cygnus will separate from the upper stage of the Atlas rocket 21 minutes after launch.
An hour and half after launch, commands will be given to deploy the spacecraft's UltraFlex solar arrays.
This is the second Cygnus mission using the Atlas V launch system and the second flight of an enhanced Cygnus spacecraft to the station. In addition to the new solar arrays, the cargo freighter features a greater payload capacity and new fuel tanks. Cygnus' pressurized cargo module has been extended and increases the spacecraft's interior volume capacity by 25 percent, allowing more cargo to be delivered with each mission.
Launch coverage will continue on NASA TV at https://www.nasa.gov/nasatv until shortly after spacecraft separation then resume at about 12:35 a.m. in advance of solar array deployment at about 12:41 a.m.
A post-launch news conference is scheduled to begin on NASA TV at approximately 1:30 a.m.
Join the online conversation on Twitter by following @Space_Station and #Cygnus.